Introducing: The Travel Capsule
Versatility and ease have become essential qualities in garments for those on-the-go. Our new travel capsule celebrates uncomplicated dressing with pieces suited to packing or wearing all day. The practical and polished styles range from wrinkle-proof pants and skirts to cozy sweats. We asked a few Californian creatives, who are always on the move, how they'd wear the collection.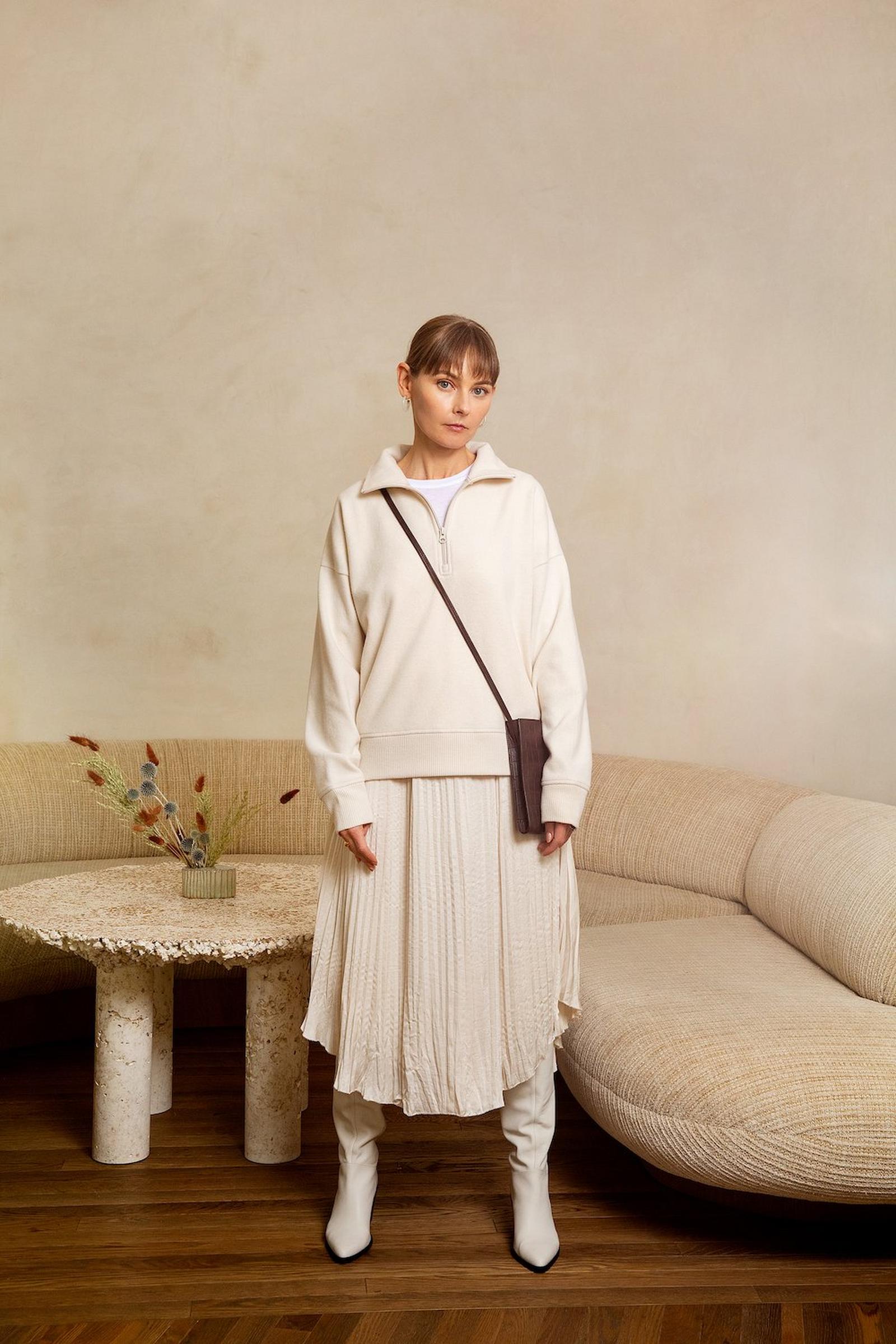 Sissy Sainte-Marie Chacon, Stylist
This is an ensemble I would wear if I planned to travel by plane and go straight from the airport to a meeting. The drapey skirt and cozy pullover would be comfy on the plane. And, since the fabric is wrinkle-proof, I would show up looking stylish, professional, and put-together. The tall boots have a sensible wedge heel and slip off and on easily, so I wouldn't have to think twice about passing through airport security efficiently. Whenever I travel by plane, I keep my essentials—ID, credit card, phone and boarding pass— in a sling or fanny pack for quick access. This crocodile embossed sling in dark brown is chic as it is handy.
Madelynn Furlong, Art Director
When traveling, I typically go for an all-black look. It's simple yet chic and doesn't easily show dirt or wrinkles. I always have an extra sweater handy because, even after years of frequent flying, I still can't seem to predict the temperature in flight. A long coat to keeps everything looking fresh and doubles as a blanket when necessary. And, last but not least, I'll keep things looking cool with a good pair of boots and cute socks.
Megan Adelaide, Fashion Industry Influencer and Photographer
I like to dress up a little when I travel, but still feel comfortable on the plane. I'll carry a big leather jacket because it would take over my carry-on and I'm always cold on the plane. These textured trousers will also keep me warm and they'll easily transition into my next look once we land.
Stephanie Liu Hjelmeseth, Creative and Mother
When I'm traveling, I choose clothes that are elegant in silhouette and airy in movement for a comfortable and effortless way to travel as a mom. I like to look dressed up at the airport, rather than look like I'm wearing what I slept in, but I think my go-to pieces like soft, wide leg pants and a cozy hooded jacket are just elevated versions of comfort. I love that I can double this hooded jacket as a cozy blanket on the plane for myself and my baby.