Shaped by Surroundings: Rachel Shillander on Forging Her Own Way
From architecture to the landscape, Rachel Shillander is influenced by her home state of California. More than that, she's interested in the relationship between material and place and how it informs construction. Each project an exploration, Shillander loves learning—furthering her understanding and appreciation for the craft, rather than just her skill. The results are beautifully complex forms with an uncommon aesthetic. Citing some of the greatest American architects as influences—she frequents many of their Los Angeles homes for inspiration, and there are certainly some whimsical elements in her pieces evocative of Goff—Shillander's work is distinctly her own.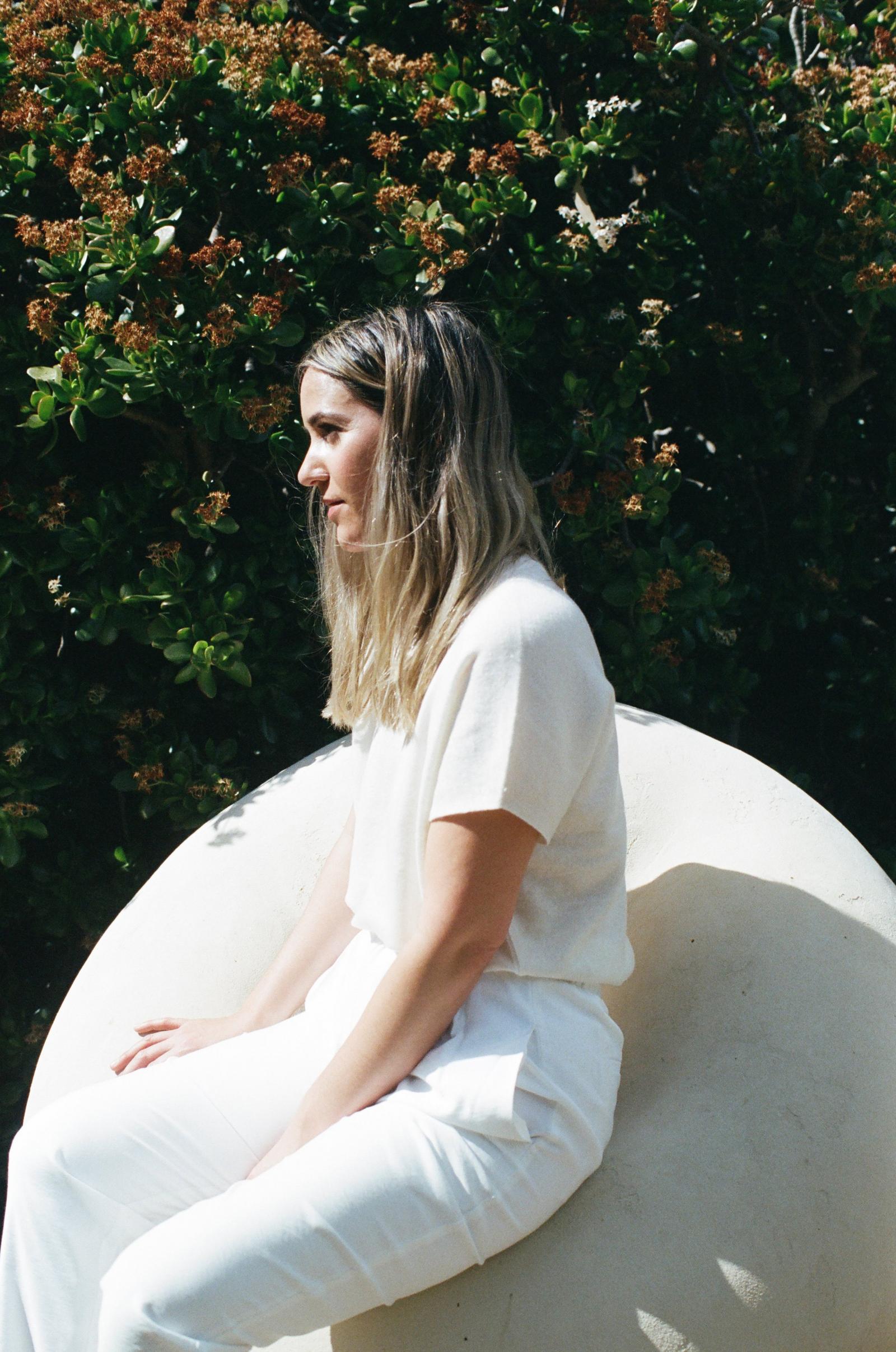 With your studio, Lland, it appears that you wear many hats and that your talent spans across many disciplines. How would you describe your practice?
It has always been hard for me to pin down exactly what it is I do, and I like that people get to make their own assumptions about my work. That said, maybe the best way to describe my practice would be to say where I would like for it to end up. It might just be a pipe dream, but the long-haul goal is to be Master Builder, a sort of Renaissance Woman [laughs]. I would like to design and build as many aspects of a project as possible: the building, materials, fixtures, finishes, furniture, lighting, textiles, doorknobs, etc., and be able to execute the parti at every scale.
So, imagine each piece I've made as just one piece in an imaginary series of pieces, made as part of an imaginary parti specific to that piece. Like each piece has a building it belongs in, with architectural elements, furniture, cabinet pulls, and lighting fixtures, all queued up waiting to be made. That's typically why they end up in groups or series of a few objects. My body of work is much larger than the pieces I've made.
Do you also work outside of your studio, on your own personal projects?
I would say that the studio is my personal project. Outside of it...I'm workin' nine-to-five. I am an in-house Building Information Model (BIM) Coordinator at a construction company here in LA (so sexy, I know). I spend most of my time at a computer, virtually building and coordinating the architecture and systems designs in large residential projects to help avoid conflicts in the field. It's been an invaluable way to gain first-hand experience on the construction side. So, though my studio work has been organic and hand-sculpted, I do have a wildly techy skill set that I am working towards incorporating more and more. My parents are both programmers, and I think computer code and parametrics are my native tongue.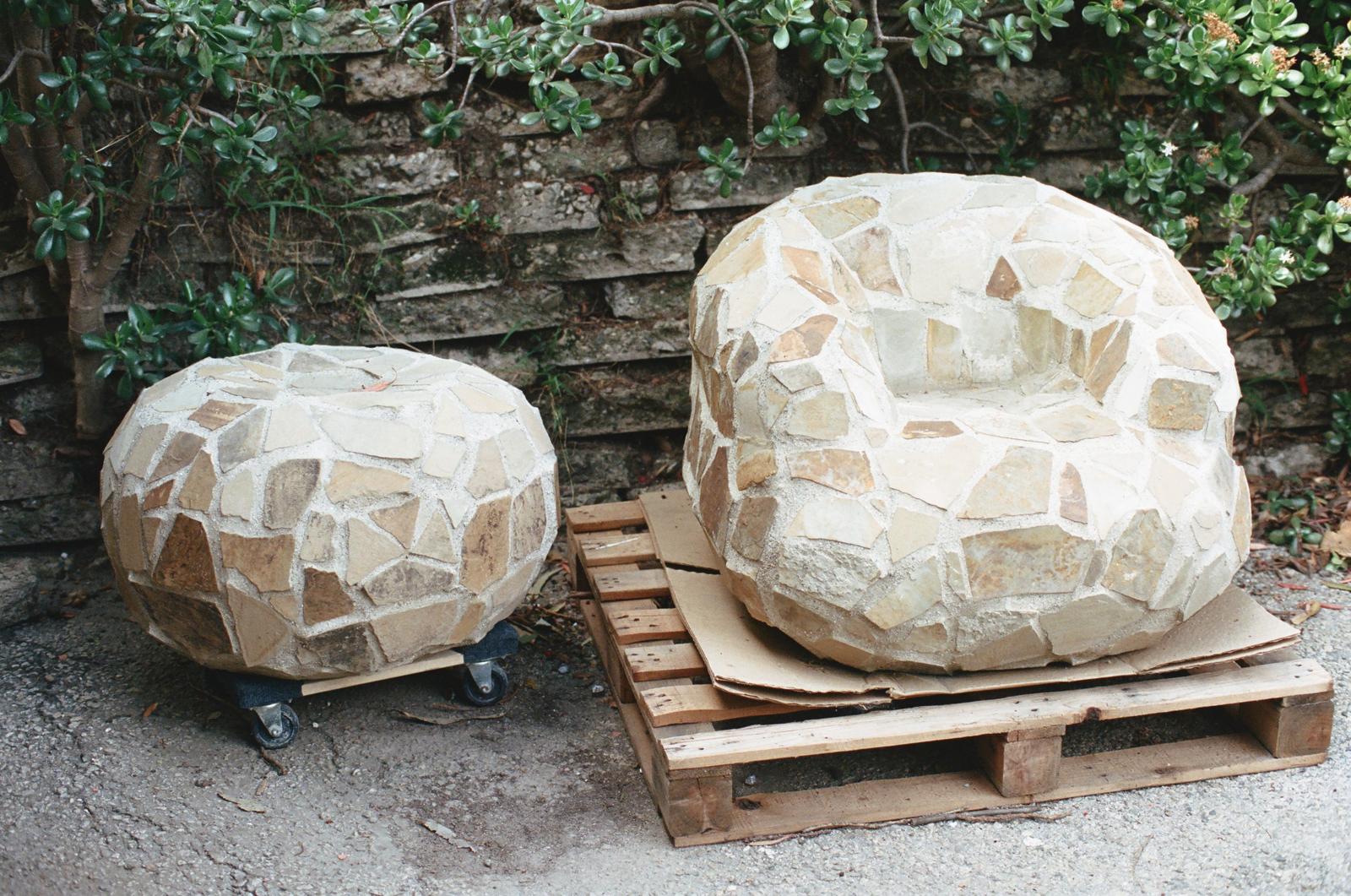 How did your practice grow into what it is today?
I started making objects to test and fabricate my ideas about the built world—no boss, no client, no real parameters. These maquettes let me experience aspects of architecture I am interested in, but that aren't necessarily available to me: vernacular masonry walls, Bruce Goff's window fenestrations from the Struckus House, soft adobe forms like St. Francis de Asis in Ranchos de Taos, watching raw copper roof finials patina to green, etc. Objectifying architecture has really affected the way I think about the field. It has helped me approach the work from a place of hands-on appreciation, knowledge, and understanding that I hope leads to quality work.
What is your favorite part of your practice or your favorite medium?
My favorite part is probably the momentum that comes out of discovering a new process, methodology, medium, or material/place relationship. So, can I say process? The process is my favorite medium if it can be considered one. For example, a few years ago, I was helping with a home in the Midwest. The project site was littered with Ozark Giraffe (OG) fieldstones and golf balls (an upslope neighbor had been using it as a driving range). So, I had the thought to make a giant fieldstone golf ball, which was the basis for the OG Sphere. That is my favorite part of a project: the seemingly random ideas that get you from point A to point B through discovering, imagining, or creating that dialogue. The project's unique genesis and it's very specific macro and micro relationships.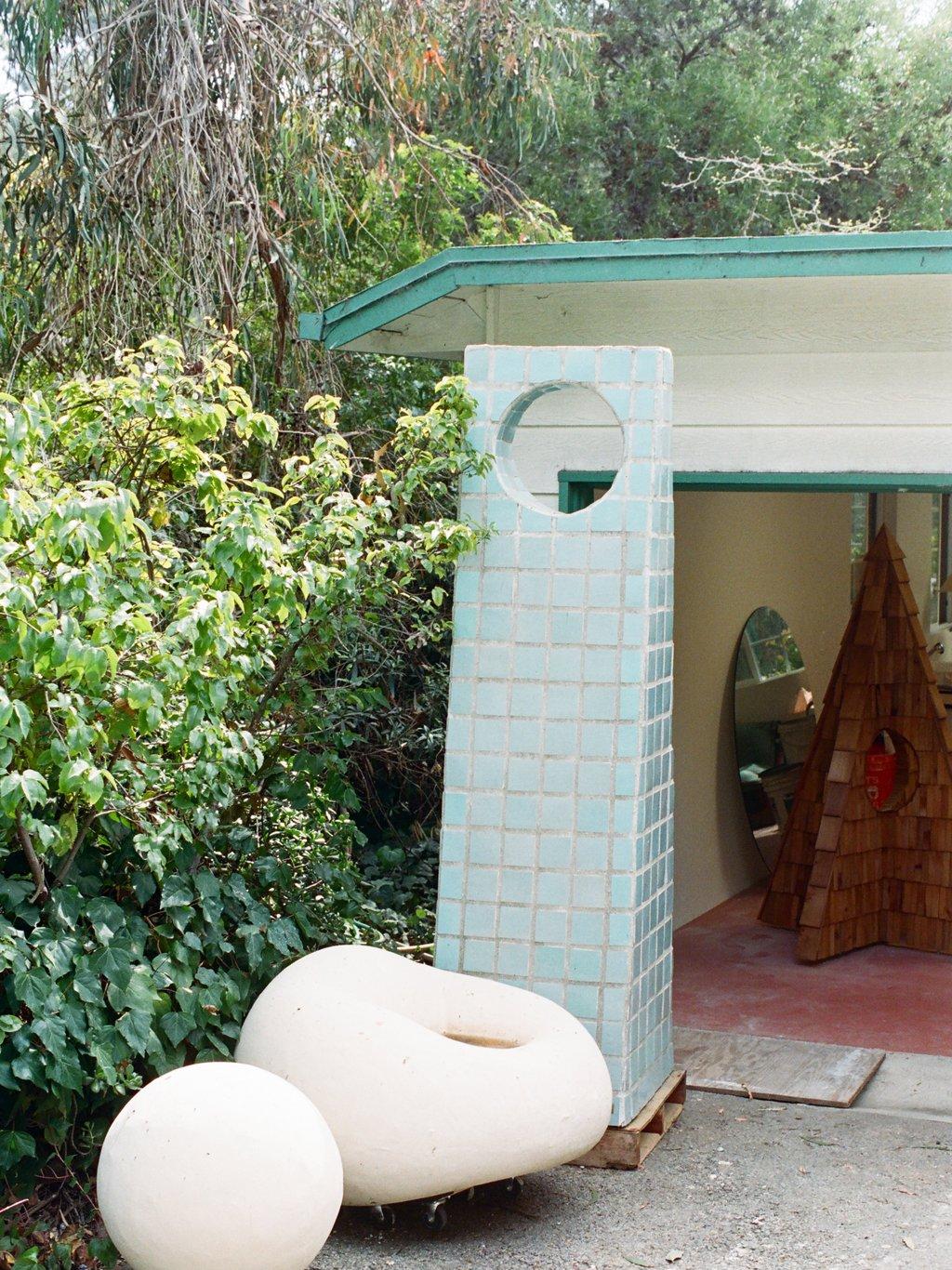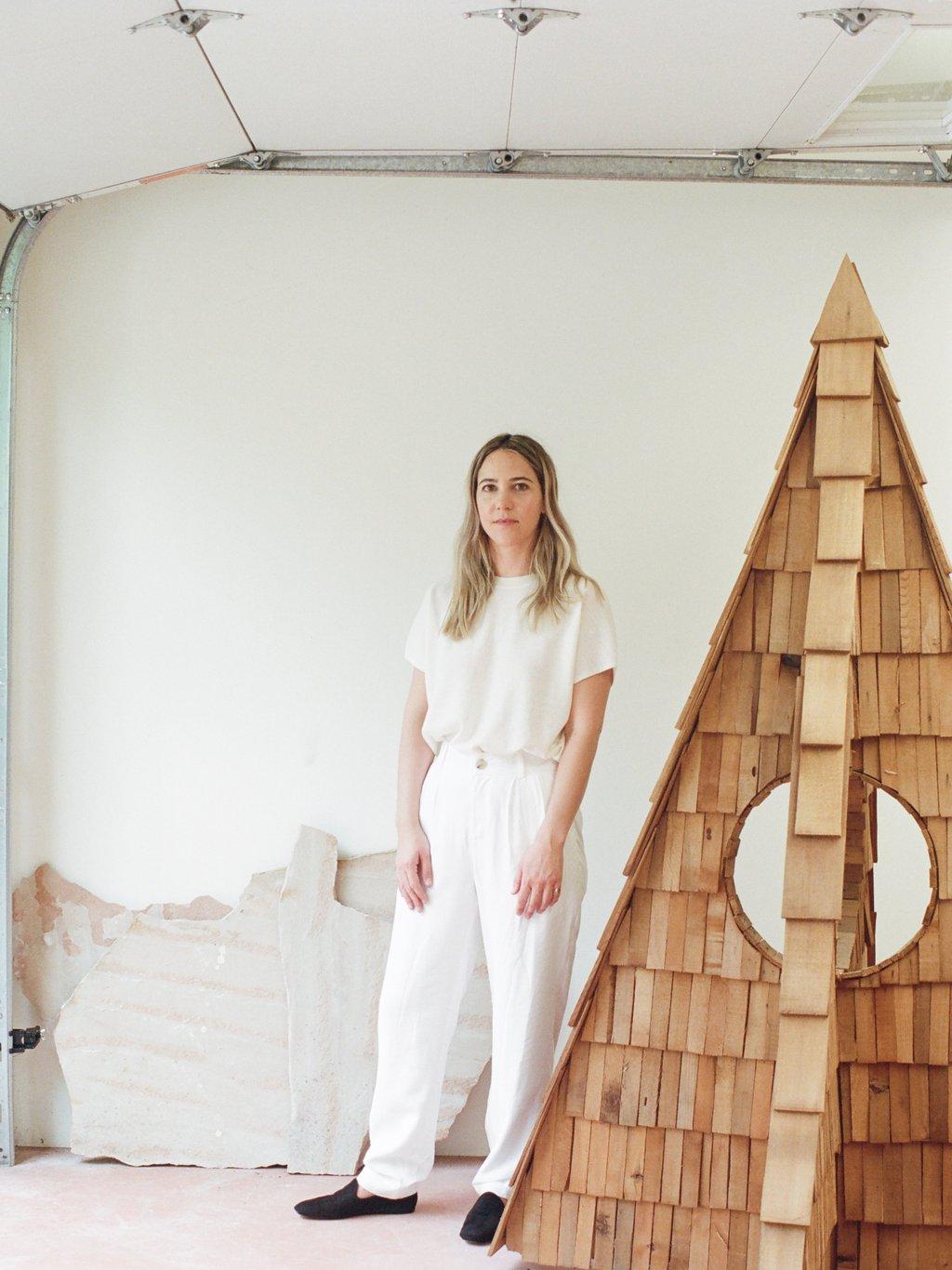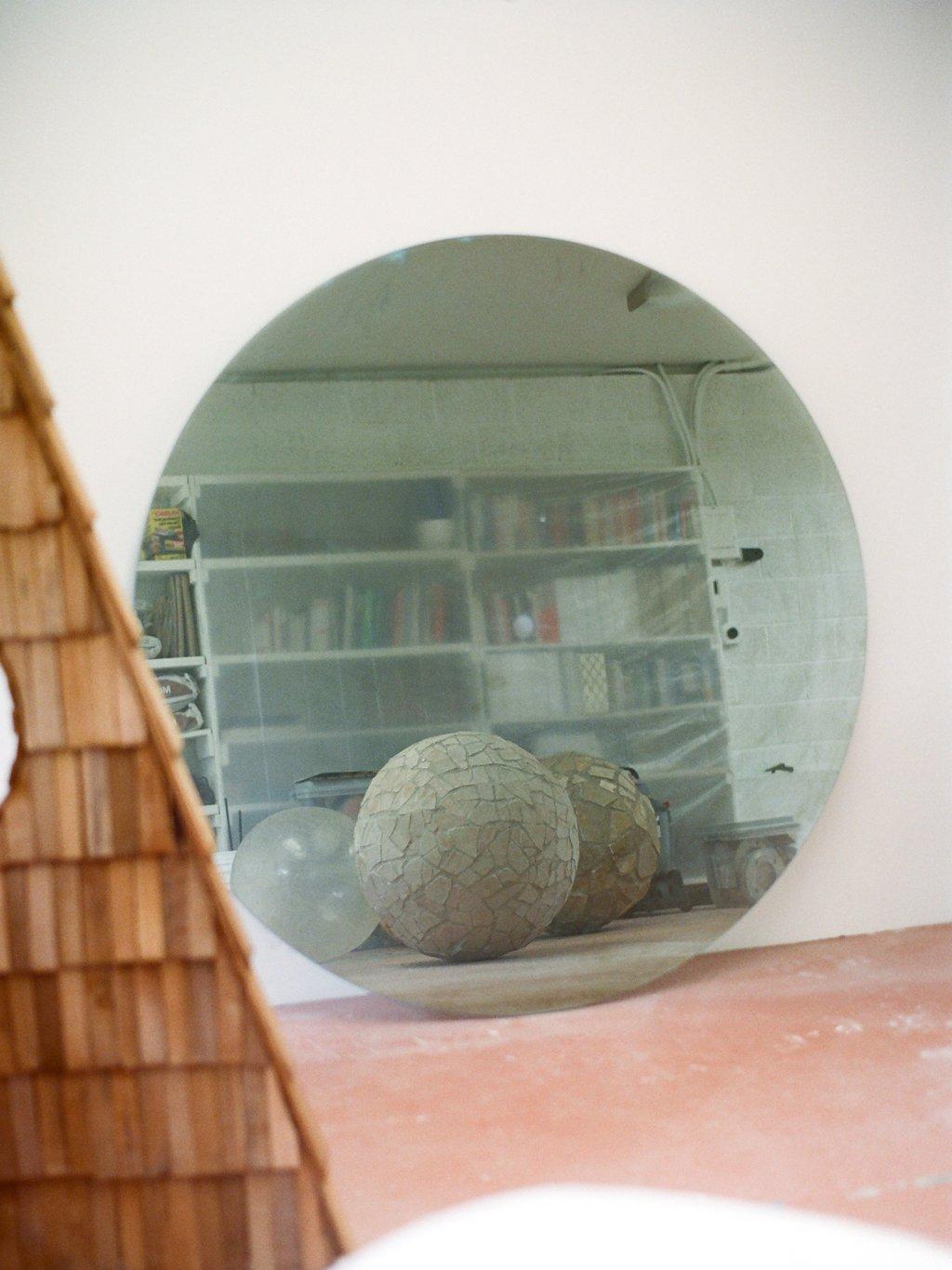 We love your stone masonry lamps and furniture—can you tell us about the process of making them?
The Santa Monica Mountains Masonry Lamp Series started with an ugly plaster floor lamp that I found on the side of the road. I liked the form, and it was the right substrate material, so I decided to clad it in masonry. I spent hours hiking trails behind my childhood home, collecting fieldstones. The initial idea turned into seven lamps. Some of the forms are found vintage lamps, some of the bases I sculpted from terra-cotta pots, pipe, and all sorts of things. A few of the lamps have ended up in homes located in the Santa Monica Mountains.
The OG Chair began with an inflatable form. I figured out how to turn an inflatable into a masonry object when I used an exercise ball as the mold for the OG Sphere. The inflatable first gets covered in layers of mesh and cement until it is rigid enough to hold its shape. Once the cement form is rigid, it then gets clad in fieldstone.
Would you say your work is influenced by your home state of California?
I would say that my work is influenced by my understanding of architecture and construction, as well as, material, place, and the relationship between the two. The Santa Monica Mountains Masonry Lamps are a good example of that relationship, being made from pieces of the coastal mountain ranges of California where I grew up. It is only natural to have nostalgia for the place you were as a kid, and I wanted a piece of that to live with...a piece of home in my home. So, in that sense, yes. That series was 100% influenced by my California roots, where I grew up, currently live, and practice.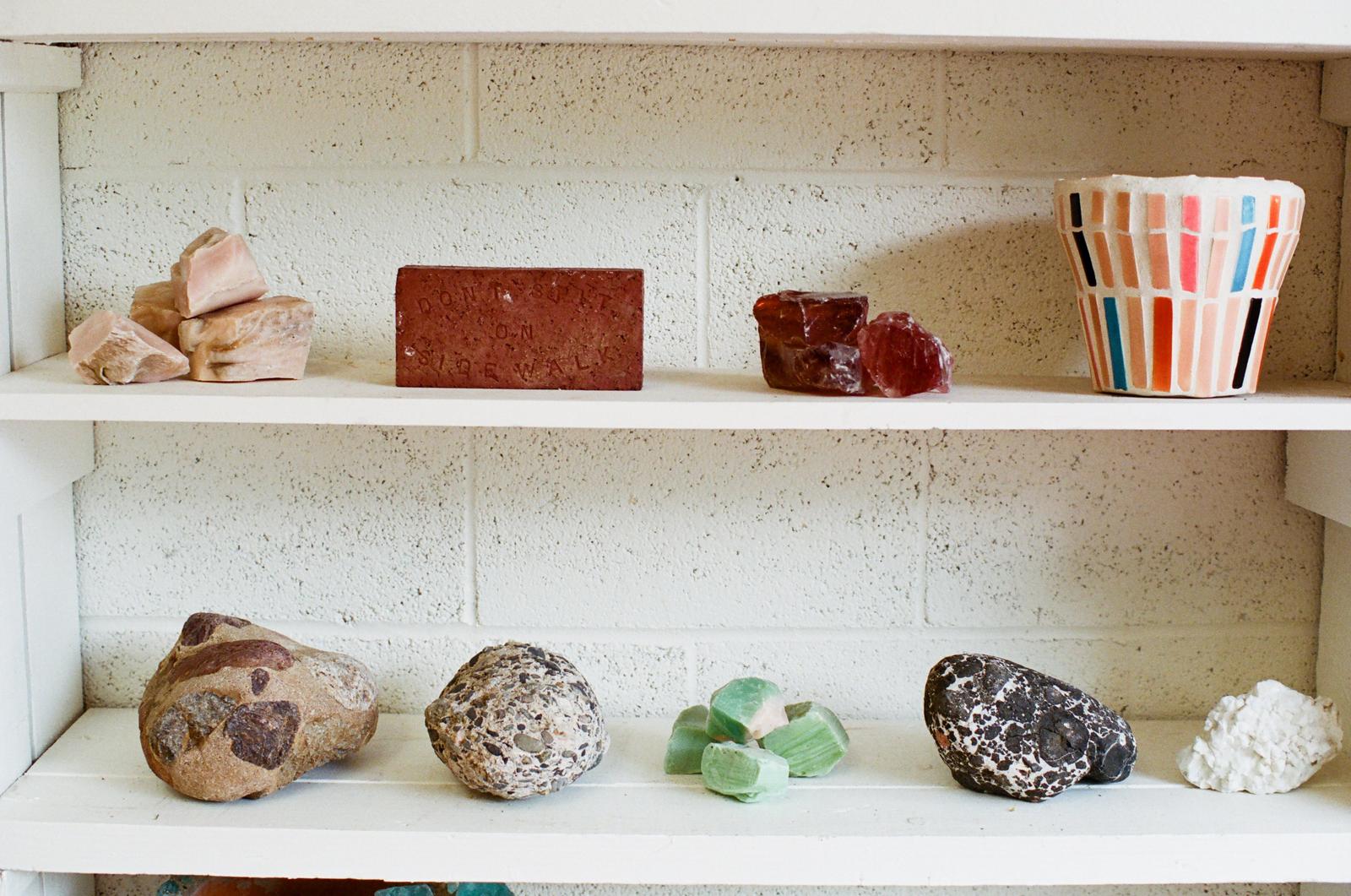 Is there somewhere local where you like to go for inspiration or to concept new works?
I look at buildings: industrial buildings, civil buildings, suburban homes, skyscrapers, the Case Study houses, Cliff May's ranch homes, Loomis's El Alisal, Frank Lloyd Wright's block houses, Bruce Goff's oddities, Rudolph Schindler's work, John Lautner's insane concrete forms, historic adobes, the California Missions etc. We have all that architecture here in Los Angeles. I also spend a lot of time with various fabricators and material suppliers too, specifically the stone yard at Jacobi Building Materials Co. in the Valley, Bourget Brothers, Home Depot, House of Hardwoods, Ganahl Lumber, etc.
Do you have a favorite project, client, or collaboration that you feel helps to contextualize your work overall, aesthetic, and goals?
A few years back, I made a piece called the Bartlesville Vessel. It is a glass slag rock covered vessel that mimics the glass slag rock motifs on a couple of buildings by Bruce Goff in Bartlesville, Oklahoma. That vessel indirectly led me to the actual source of Goff's signature rocks.
On a rumor that Goff got the slag for his buildings only an hour or so drive from where I was living at the time, I got in contact with the "Glass Man." I went down for a visit, spent hours rummaging through colorful glass rock dunes, and heard the story of how Bruce Goff ended up with his infamous blue slag. When the plate glass factory located in the town closed half a century ago, The Glass Man's dad purchased the building, including the millions of pounds of glass slag the plate glass company left behind. He started annealing the slag and selling it on the side of the road. A lot of the town's buildings have glass slag rock elements. Though the original glass is gone, The Glass Man still sells recycled glass slag rock out of a warehouse in town. So, as it goes, a mason laid a few chunks in with the masonry walls of a home I was helping with at the time. I've kept in touch with the Glass Man and I was able to get a stone yard here in LA to carry his glass slag rocks. When he does a drop at that yard, he brings me some too. Last time he brought me this pale opaque pink that is from recycled perfume bottles. I'm still waiting for the right project to use them.
The Bartlesville vessel isn't necessarily my favorite piece, but the series of events that led to the discovery of that glass rock, because of it, might be. The specific place-material relationship of it. The chain of events and process of discovery that creates the story; that is my favorite.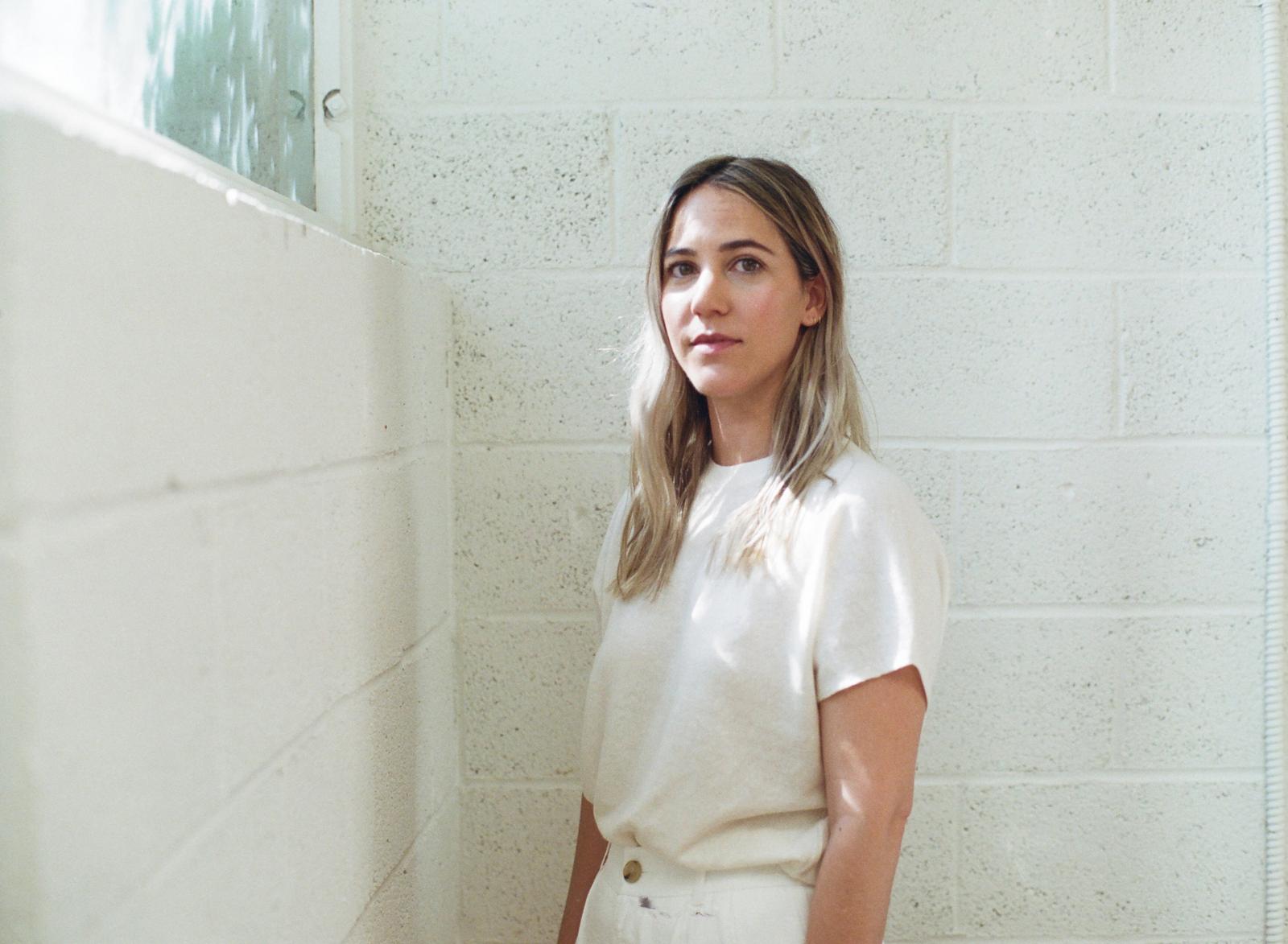 What do you feel you're still mastering?
I don't know that there is anything I've mastered, and I am always finding new skills to learn. A jack of all trades is a master of none, right? On the job site, I am constantly in awe of the tradesmen. Whereas I work through trial and error, it is their job to produce the desired outcome every time. They have honed a craft, with real skills developed from working thousands of hours in their trades. It is so informative to watch them work, and I don't expect to ever catch up.
What do you like to do when you're not working?
Since this is LA, I feel like I am either at my day job in Santa Monica, in my studio off PCH, or commuting between the two. Otherwise, I'm at home in the Valley. I am the cliché Angeleno commuter, no doubt. I have also been studying for my architectural licensing exams. So, lately, when I am not commuting, working, at the studio, or sleeping, I've been reading really exciting excerpts from the IBC (International Building Code). I must sound like such a snooze to anyone uninterested in architecture. Once my last couple of exams are over, I will have more time to do what I like. I'll have to remember what exactly that is, but I think it involves listening to reggae and disco, knee-deep in rocks and mortar, with the sound of an air compressor filling inflatables in the background.