An Emotional Approach: The Works of Simone Bodmer-Turner
When hand-building with clay, Simone Bodmer-Turner channels ancient history and techniques, energy from the places she's been, and the experiences earned through her travels near and far. Her pieces are soulful and poetic, imperfect with alluring idiosyncrasies. Their abstract, other-worldly silhouettes vaguely echo traditional vessels. Bodmer-Turner's emotional approach to the highly technical practice lends an ethereal quality to her work.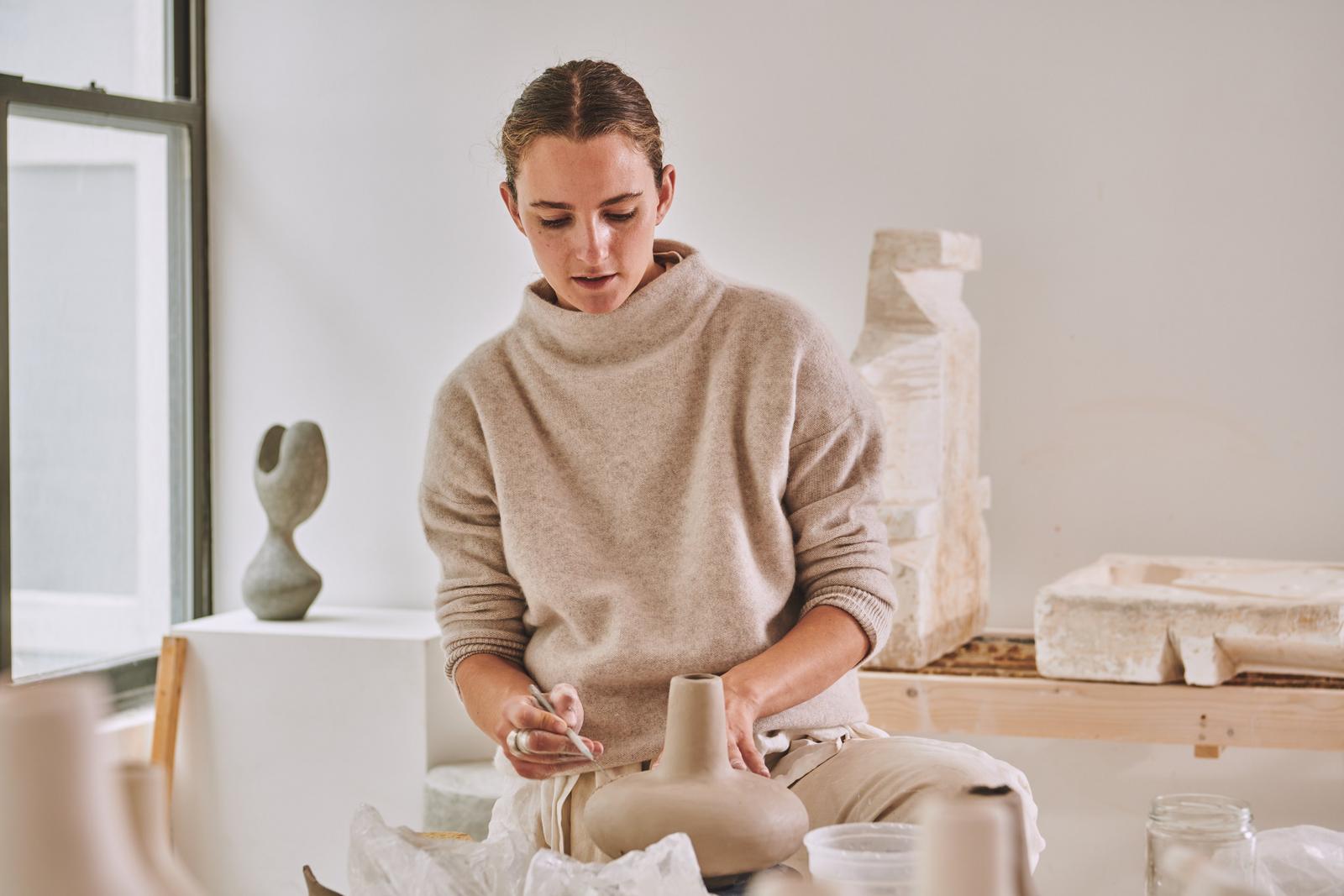 When did you first discover ceramics?
It was more of a gradual, growing interest than an immediate or distinct moment. I have known since I can remember, that I wanted and needed creative expression to be a central part of my life, but I had no idea what shape it would take. When I was younger, I had a drawing, painting, and collaging practice and didn't land on clay until about 7 years ago. I started slowly: first learning the material, becoming frustrated with the material, and then exploring what you don't get to touch in a community studio like the kilns, methods of firing, and glaze mixing. It was when I realized that I could practice until the end of my hopefully long life, and never stop learning, that I completely jumped in. So much of it is science, and the actual process is quite meditative compared to other mediums that render similar looks.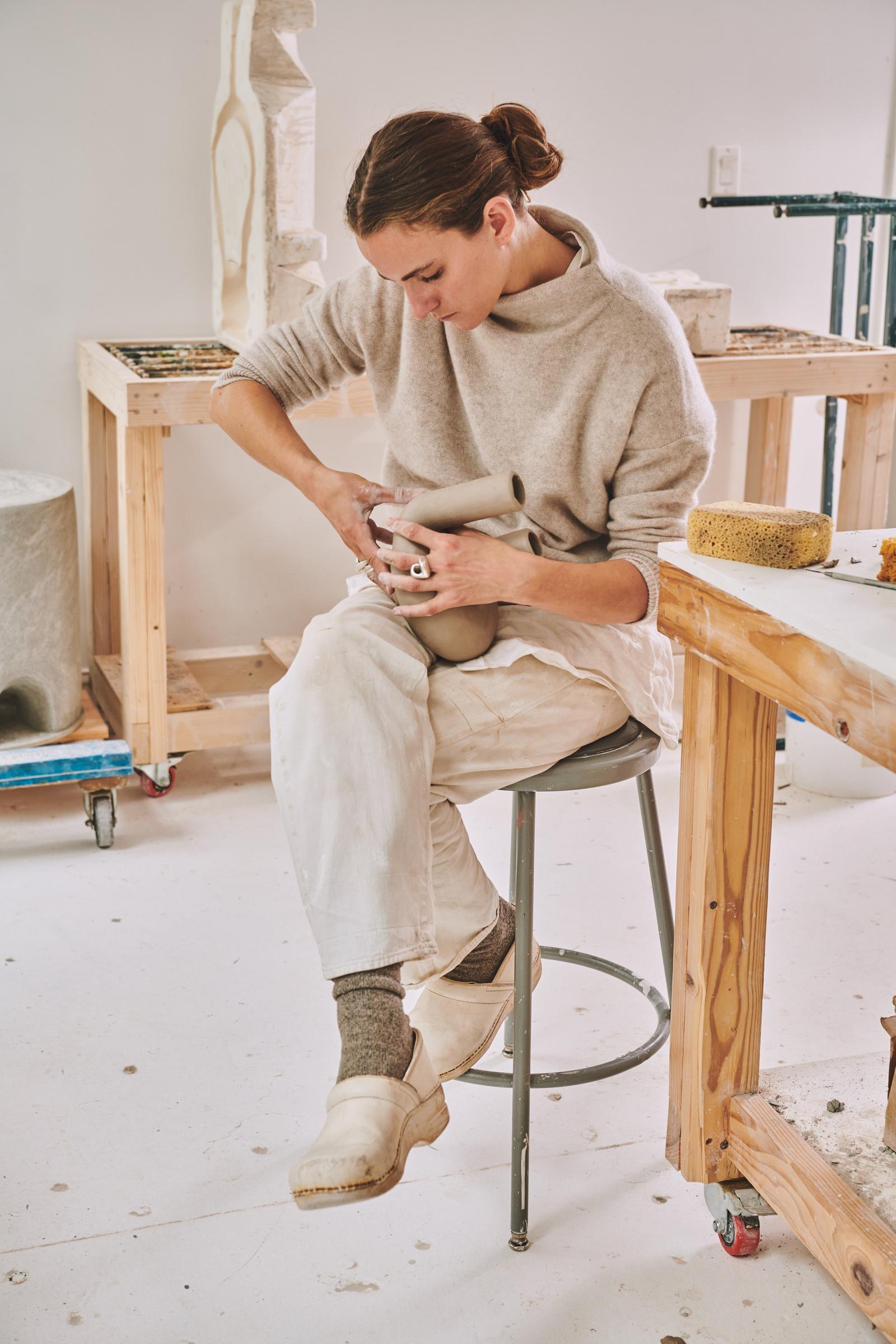 You've studied and practiced in both Mexico and Japan—who, if anyone, did you work with, learn from, and look to?
My time in Oaxaca was quite structured, working alongside a potter in Atzompa, compared to my time in the countryside of Japan. Japan was a focused time to work mostly on my own. I crave different residencies at different times in my life. I will seek out a formal program when I'm feeling high energy and ready to take in new information, be present, and work according to another artist's rules. If I am feeling depleted, or looking for a respite from structure and deadlines, I'll seek out programs that offer time and space. When I was in Mexico, I went to Atzompa daily and observed Rufina and her sisters at work in their potter's collective. I got to help with tasks that I couldn't easily mess up—clay processing, burnishing, and kiln loading. I had a couple of afternoons to try out their techniques while Rufina watched and adjusted, and then I was able to share my techniques. It was an interesting exchange of sorts. That was where I learned to carve and burnish my pieces. Before Oaxaca, I left the surface much looser and rougher.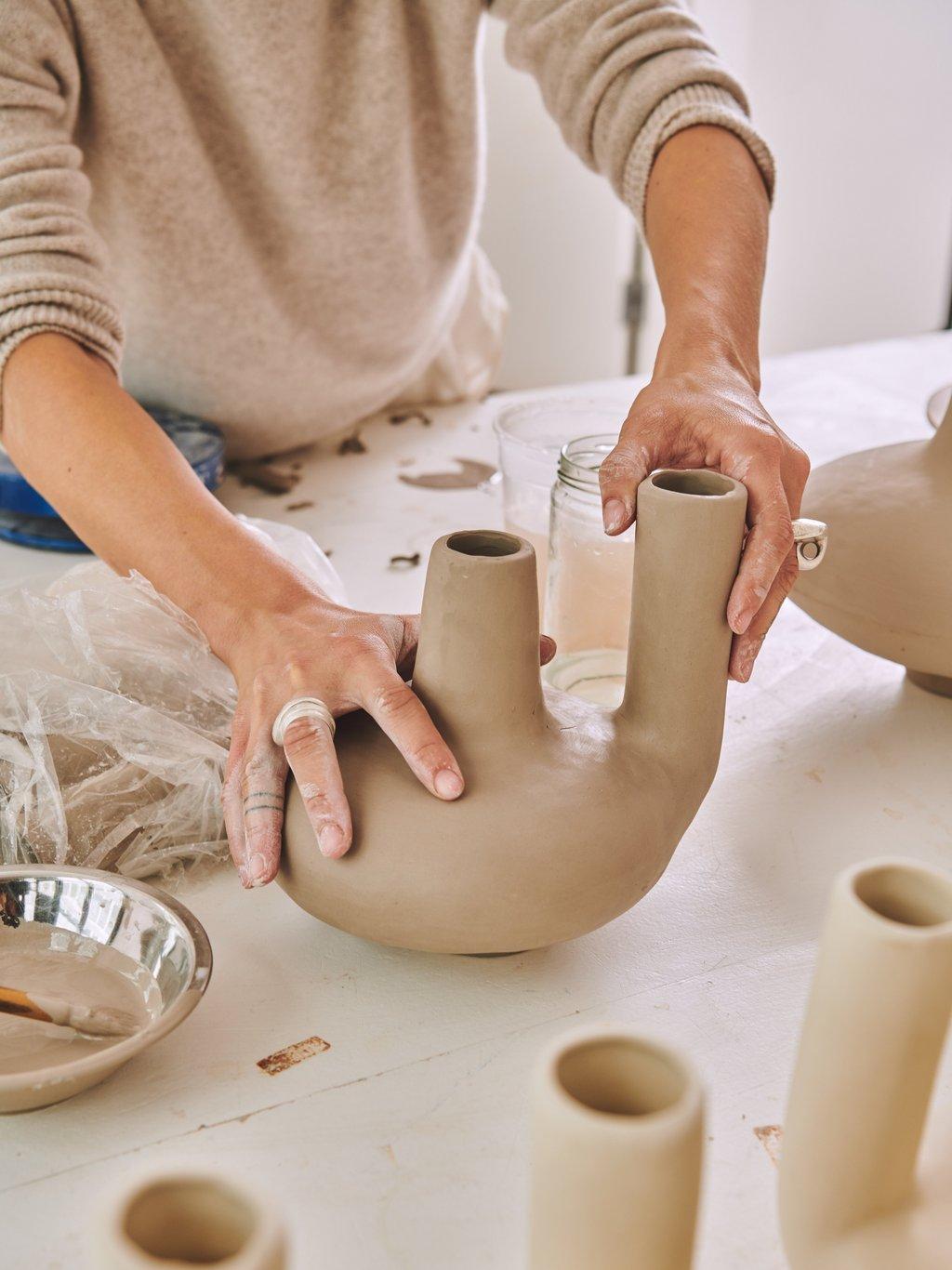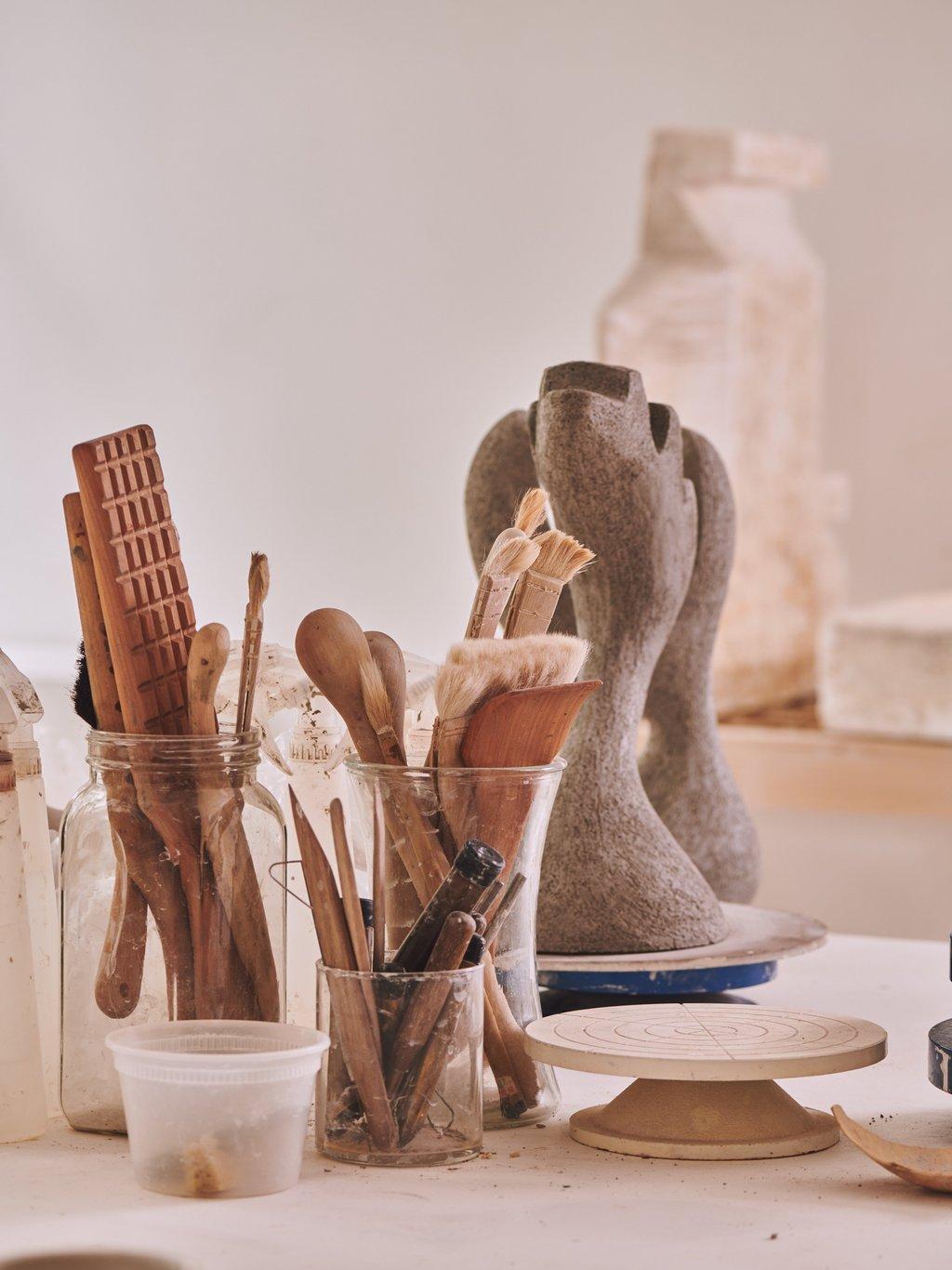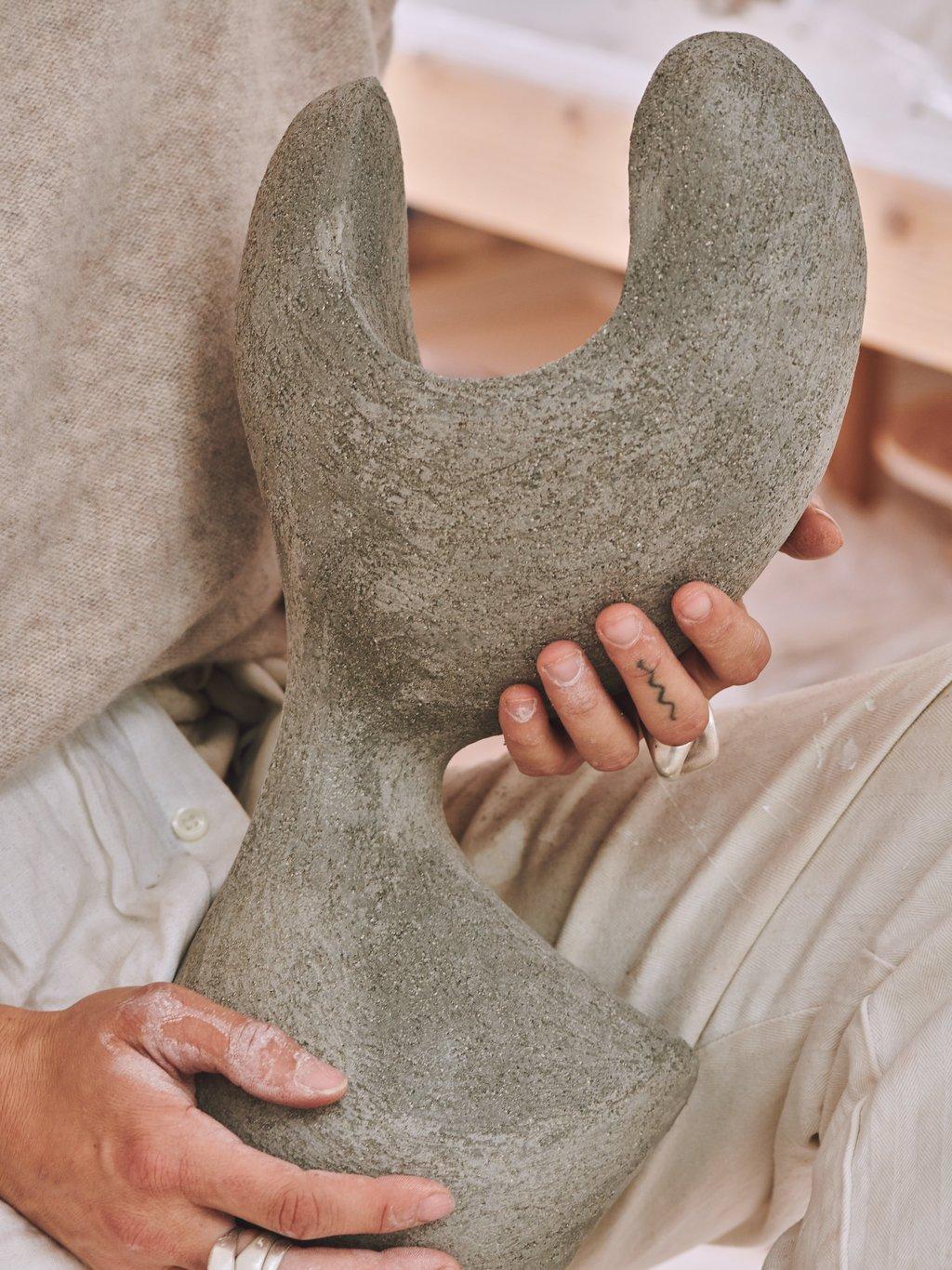 Are there other artists and designers who inform your work?
Hard to say, there is never just one, and they are seldom working in clay or exclusively in clay. My work is informed by the organic yet architectural forms of Valentine Schlegel, Barbara Hepworth, Jean Arp, Henry Moore, and JB Blunk, as well as the cut-out shapes and lines in the work of Matisse and Picasso. On the business side of things, I'm interested in artists and designers who have a comprehensive practice. Scheglel and Noguchi worked in costume and set design for the theater as well as ceramic and sculpture, respectively. Designers today need not stop at their foundation. I admire the London-based designers of Dello Studio for not limiting themselves to set design— they also design skate parks and fashion shows and make furniture and objects—and the French fashion designer Jacquemus, who does not limit himself to women's clothing but now does a men's line, has both a cafe and a restaurant where every detail is paid attention to, and whose aesthetic centers around his growing up in the south of France by putting on his shows in lavender fields or amongst gigantic hunks of bread and butter. I want to stretch into new mediums like textile, stone, glass, wood, and iron and incorporate my love for creating space, dance and movement, costume and uniform, and gathering people around good food into my practice and my work.
Does place play a role in your work?
Of course. I'm very susceptible to place and often travel to get swept up in the energy and history of an area to see how it translates into my work. New York is a great home base because there are endless opportunities for stimulation and inspiration. The humming energy of the city can get overwhelming, but I've been able to carve out a quiet, safe space to live and work. I feel like a New Yorker, but my roots in a love for food and the natural world were laid in northern California, where I've also lived.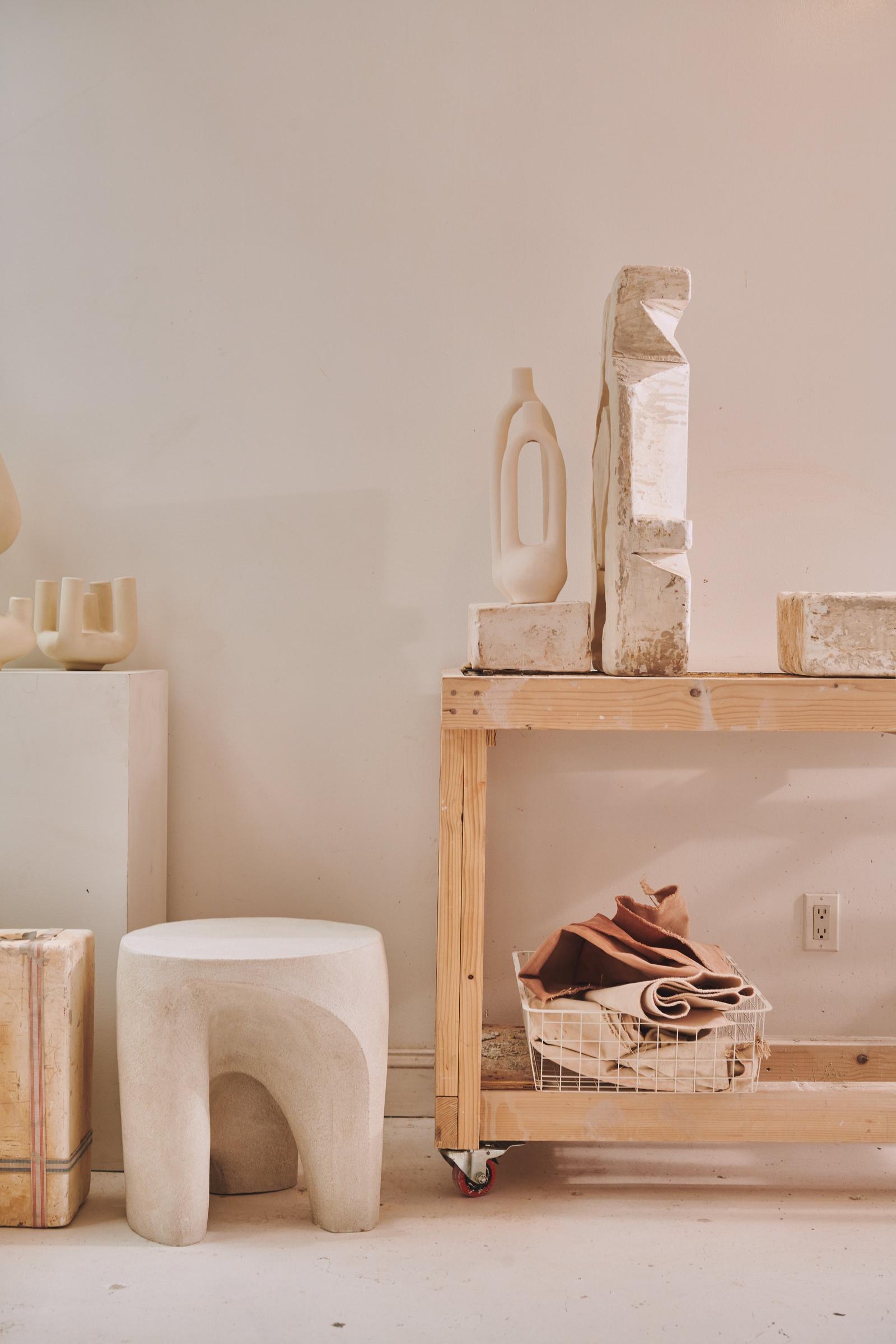 What is your process?
There are two parts of my practice: The Permanent Collection of Vessels, which is the line that resides in Vince stores, and my sculpture practice. The Permanent Collection of Vessels are inspired by an amalgamation of ancient water vessels and mid-century modern design. We create this collection by molding the original hand-built forms, slip casting them in white stoneware, and finishing them in a creamy, slightly textured white glaze. My practice is all hand-built, mostly with coils, but the building is also getting more experimental as I move into larger and larger forms.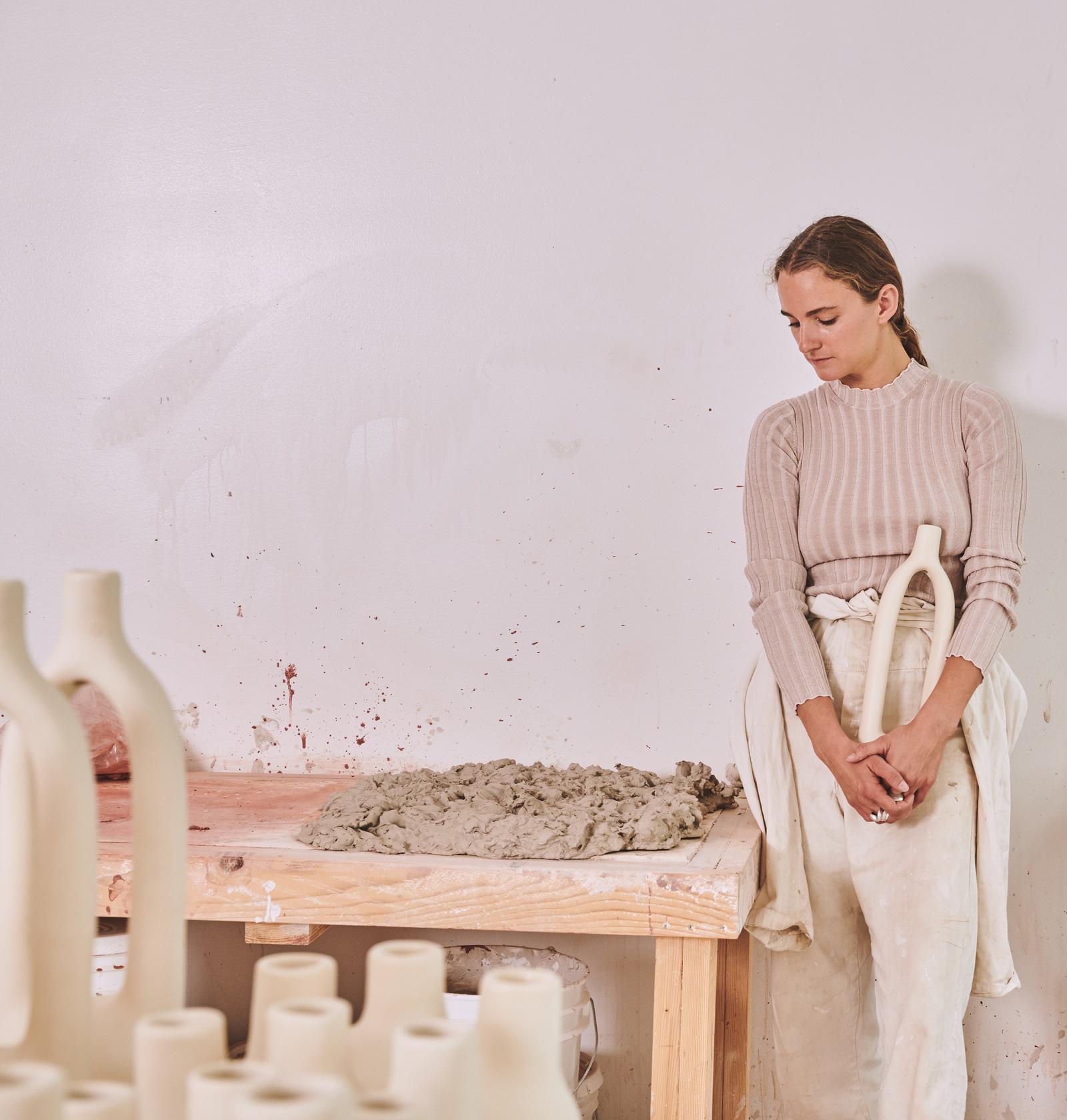 How do you dream up your vessels?
The vessels in the Permanent Collection all came out of one vessel, which was a Peruvian stirrup vessel made to carry water. When I first came across the many variations on this functional design, I was enchanted. I created my take on the form which evolved into what is now the Single Stem Vessel and my most well-known piece. I designed the rest of the collection to complement those round bellies, arching bridges, and thin necks. The collection includes these six initial vessels plus a new favorite—the Bridge Handled Vessel—and will be adding three more new forms that riff off the Bridge for SS20.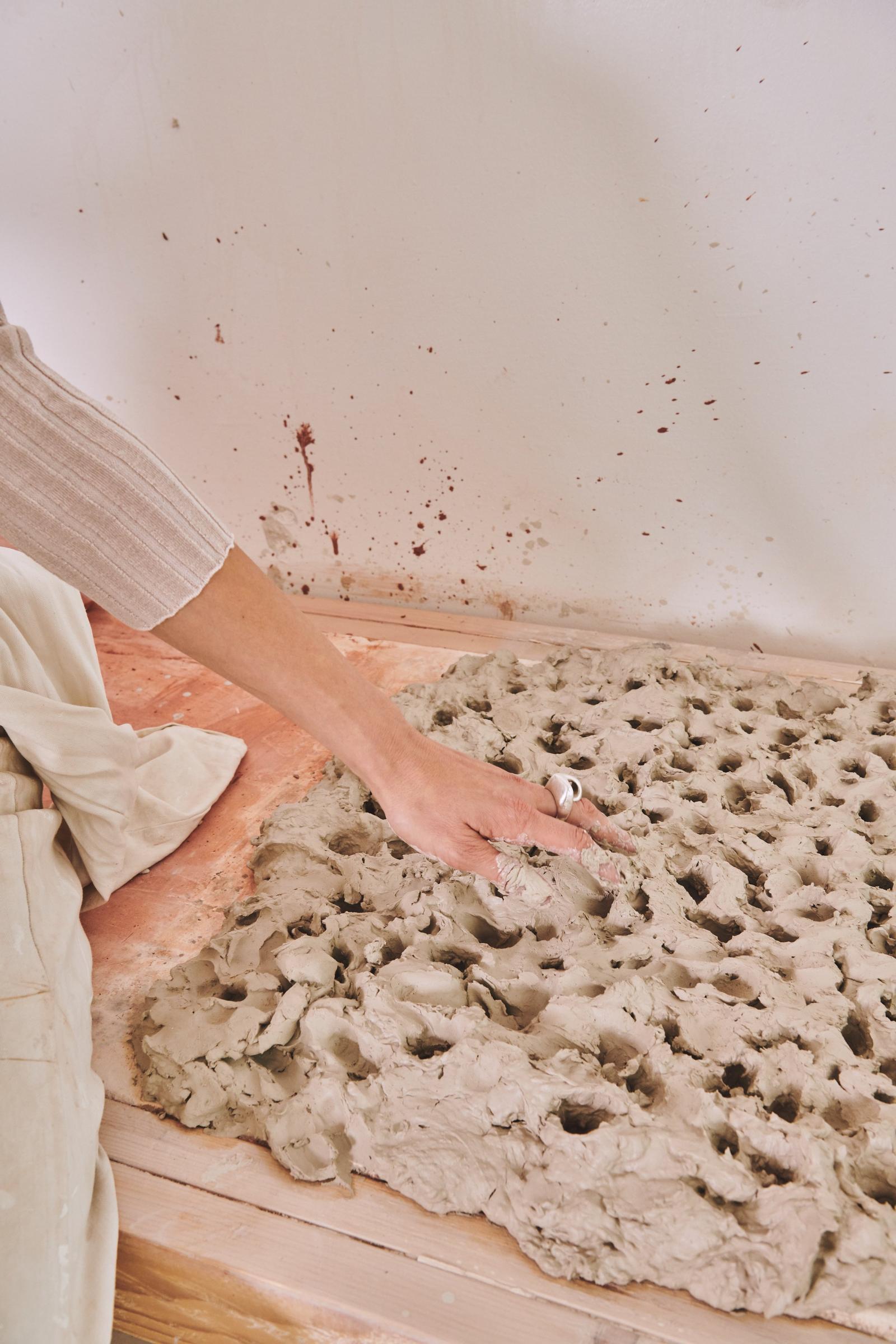 Do you ever keep pieces just for yourself and not share, show, or sell them?
I live with all of my more experimental pieces and some broken pieces. I've kept a couple of originals from the Permanent Collection as well and will never sell them. But, for the most part, I'm not very precious with my work. Moving an older work out of the studio makes room for something new, and I always want to be moving forward.
Anywhere you'd like to go for experience, any mediums you'd like to play with?
I just went to the Hanna Eshel show at Patrick Parish, and now I'm dreaming of going to Carrera and carving marble. But there's a never-ending list of both places and medium.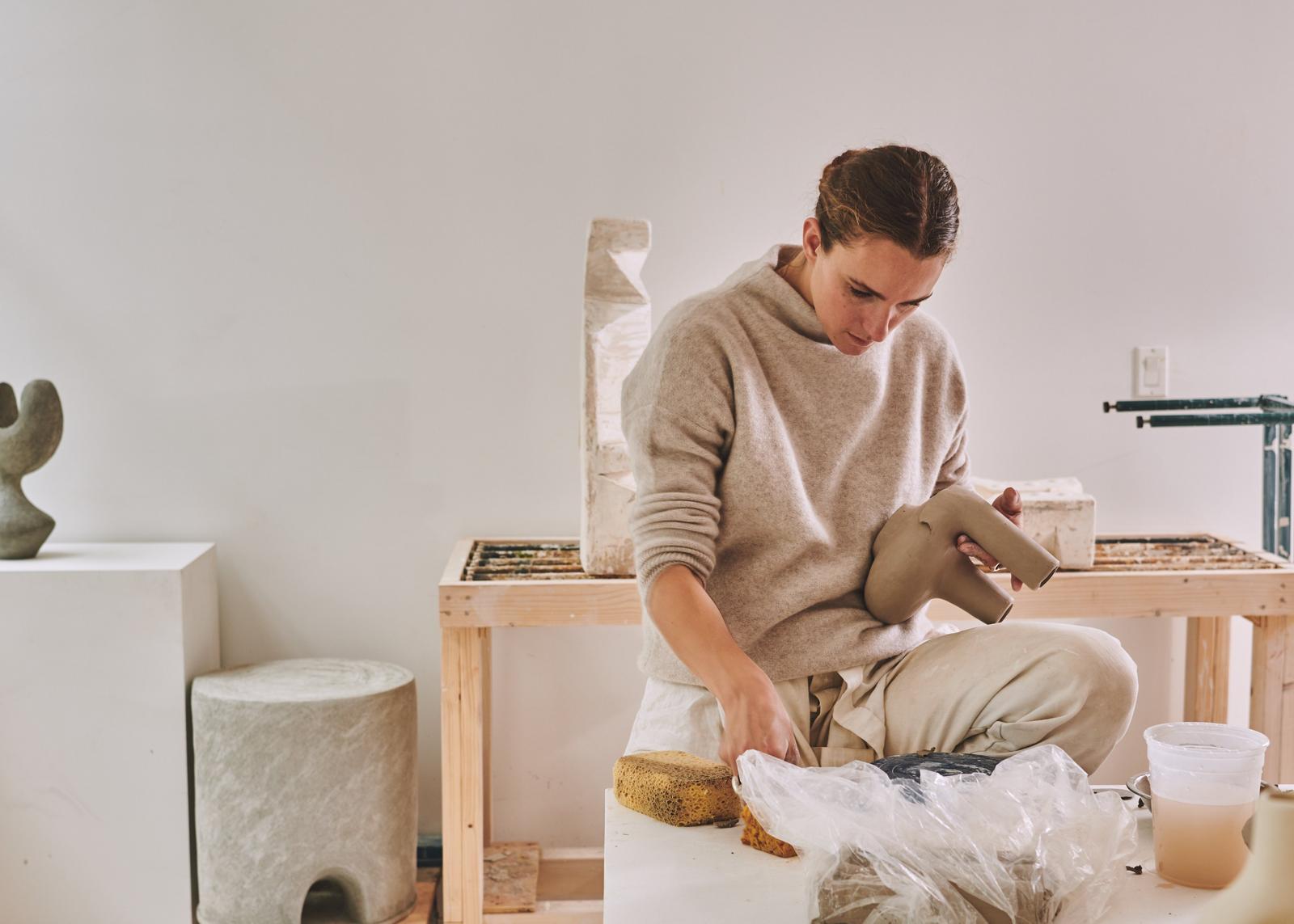 What do you wear when you work?
Probably things I shouldn't be wearing to work. I have some designated work pants and jumpsuits but, as soon as they're matted with clay and glaze, I usually start wearing my out-of-studio clothes which then transition into studio clothes—at least, If I'm wearing a lighter palette, you can't tell I'm dirty unless you pat my leg and see all of the dust rise off.
In which arts are you a frequent observer rather than an active participant?
Again, other tactile mediums like wood and stone, but hopefully not for long. I've been messing around with dance in a movement class with a group of people I adore—they are the real deal, and I can't wait to do an installation with them at some point. I used to think I'd make a good actress because I have a (too) expressive face. As it turns out, I'm rotten at remembering lines and just crack myself up. And fashion, but as the industry becomes more environmentally and culturally conscious, it's easier to admit I like having a uniform as an extension of myself and my work.