California Creatives: The Transformers—Furniture Designer Shin Okuda
This season's California Creatives are the kind of bold, imaginary thinkers who have walked away from promising careers, forged ahead in the face of fear, or picked up the pieces of thwarted dreams to pivot toward an unknown path. For these architects, skincare stars, chefs, artists, and more, courage has been found in 180 degree turns and slight shifts in thinking. In this year of drastic change, each of our pioneering subjects offers an example of how to move forward, taking what we've learned from the past into a brighter, more authentic future.
Designer Shin Okuda's expertly spare and limitlessly playful designs are regularly commissioned to give life to artists' residences, interior designers' homes and cult lifestyle shops from New Zealand to New York, Japan to Los Angeles. Layered with international design languages from a spectrum of centuries, Okuda's furniture and functional objects brand, Waka Waka was developed without any formal training. He never set out to be a furniture designer. "In my family, an art degree was not an option," says Okuda on a call from his Frogtown studio. "I'm from Fukuoka, on the north tip of Kyushu island, closest to Korea. It used to be the biggest metal industry in Japan. My family's business is a copper refinery." In my family, an art degree was not an option." On a whim and without a plan, he took an opportunity to the United States, wound up in Los Angeles, and never left. Here, Okuda gives us a glimpse into his creative process, discussing the freedom to be found within limitations and why California's interiors are so neutral.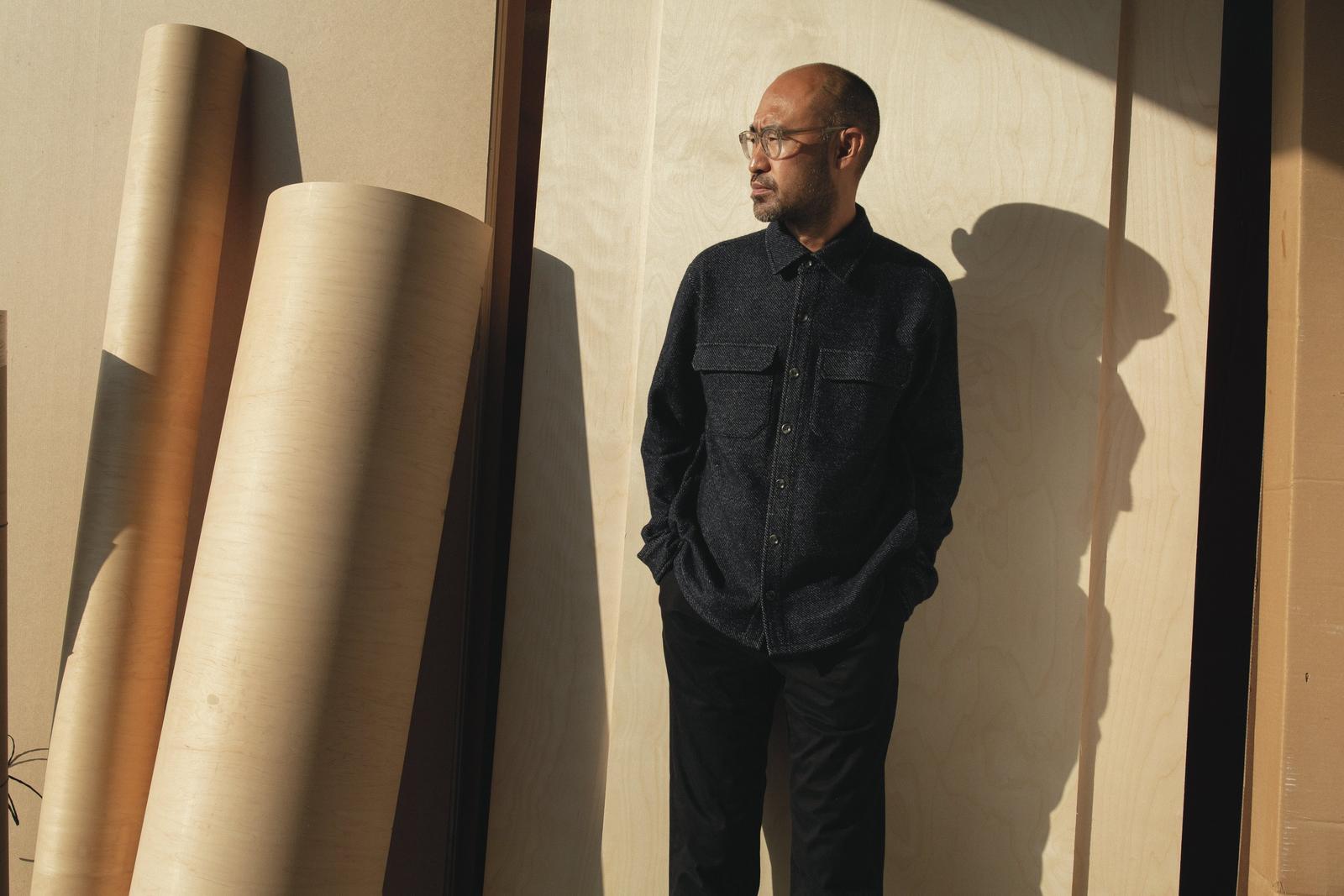 You never trained to become a furniture designer. When did you first become interested in making physical objects? What was your education?
I didn't think I wanted to make furniture. [Growing up] my mom kept every box—Japanese products are over-packaged. She kept them so I could make things like robots and plastic models with lighting elements. The robots become more sophisticated. In high school and college, I had a friend who was a carpenter, [and] when I wasn't in school, I was helping him do build outs of stuff. I was just happy as long as I was making anything.
How did you end up in L.A.?
When I was 27, I went to Arizona as a travel agent for a couple of months. It was an opportunity to go to the United States so I jumped on it. I had a friend who was going to school in Los Angeles, so I rented a car and drove out here. I had a little bit of my visa left over, and I just stayed. I didn't have any plan, I was just enjoying being in Los Angeles. I applied for a job at a flower shop in a grocery store in Little Tokyo, bought a car for $1000 and sublet an apartment. Back then, everything was easy. I applied for a working visa, got it, and was able to stay.
How did you make the transition into the design world?
Once I got a working visa, it was easy to apply for other jobs. I got this job working for the artist Jorge Pardo. He made a lot of furniture and we fabricated many sculptures. So I started studying and researching furniture for him. I was the only one [at his studio] who didn't have [design training], so it was interesting to see and work with people who had that formal background and education. I learned a lot working with the team who was working for him.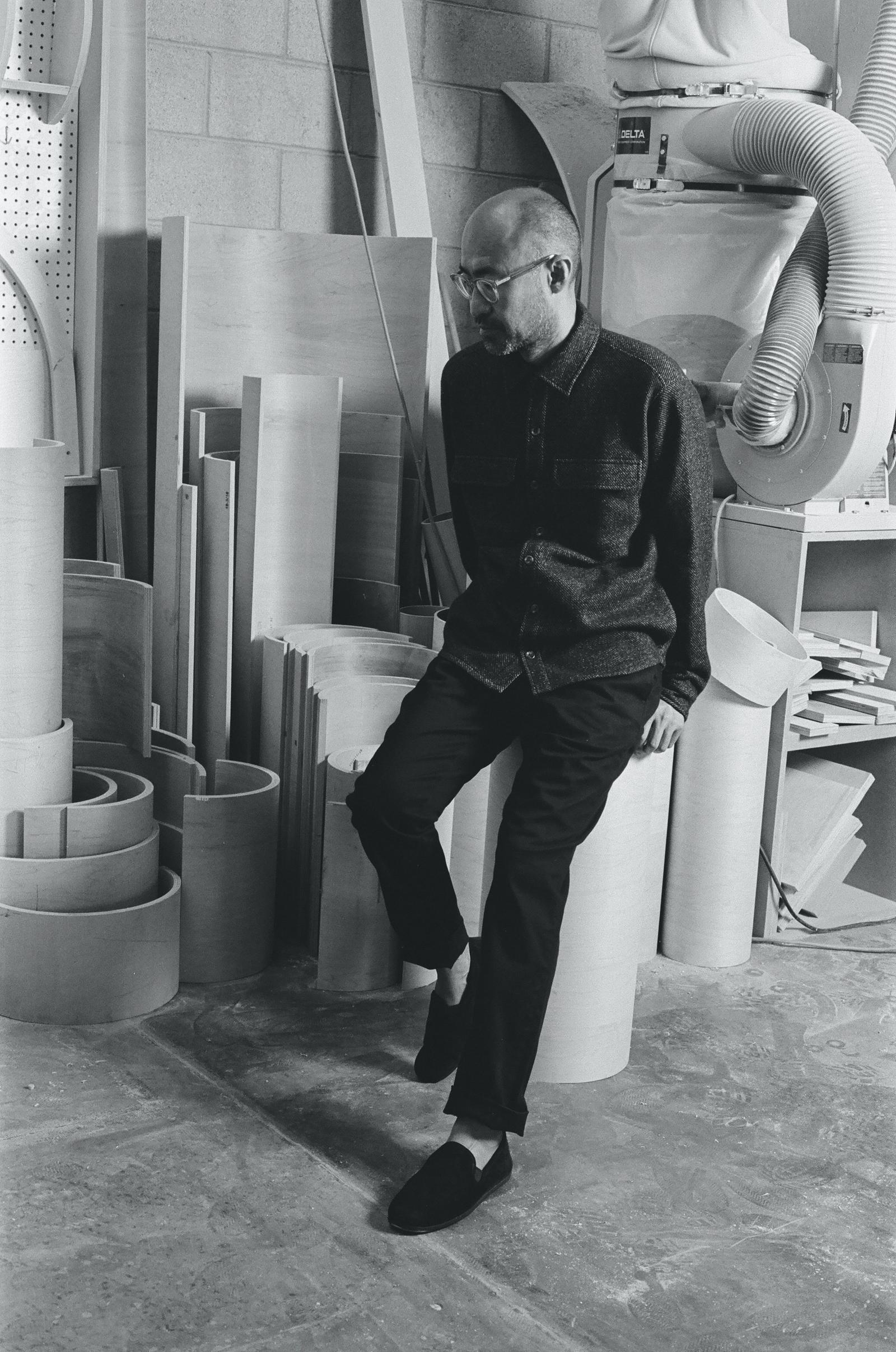 When did you start making your own furniture?
I worked for [Pardo] until 2007. [After that] I was doing prop styling for photo shoots. To make [extra] money, I was making very minimal but functional designs: kitchen cabinets and stuff. And on the side, I was making Bauhaus style plywood chairs which nobody bought. I just wanted to make a living. Every opportunity I had I thought, "Oh! Good! I can go another month."
When did you start taking your own furniture seriously?
When people started buying it, then I started taking it seriously. My wife still has a store called IKO IKO, which she opened in 2009. My friend took me to her store when it opened, that's when I met her. We started dating, and for every event [she held at the store], I was making little pieces: when she had a reading project, I was making a reading desk and bookshelf for the event. By April, Creatures of Comfort opened in New York and Jade [Lai] commissioned me to make a bunch of stuff for the store, like the triangle cheese slice table and stools. Once that happened, I thought, "Okay, I can do this."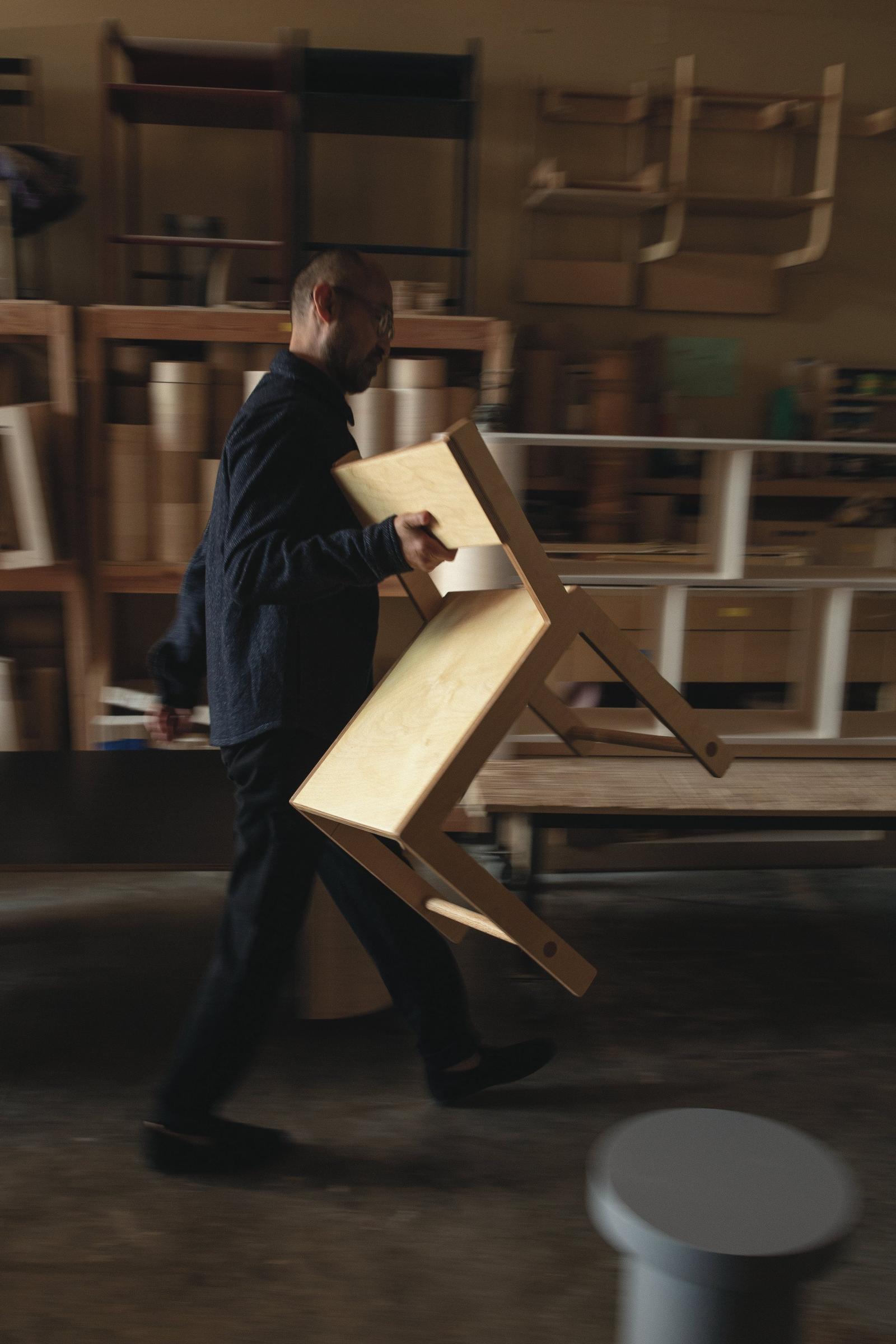 When you were able to make your own work, what were you interested in making?
Simplicity and subtle details. Growing up in Japan, shrine and temple structures are very embedded. When I start making [pieces] for IKO IKO, I was very into Memphis and Italian stuff. Through that I started looking at amazing 80's designers, Shigeru Uchida and Shiro Kuramata. [I loved their] material choices and freedom of design, like color and proportion. It's a fun thing to explore all of this design possibilities. [Because I didn't study design,] I don't design anything that I don't think I can make. That limits my design, but it's good to have limits. It's like playing piano: there are only 53 keys. It could [have] 200 keys, but would that make better music?
What is your all time favorite piece of furniture?
I like the wink chair from Cassina by the '80s Japanese designer Toshiyuki Kita. It's very comfortable and shows a freedom of design to me.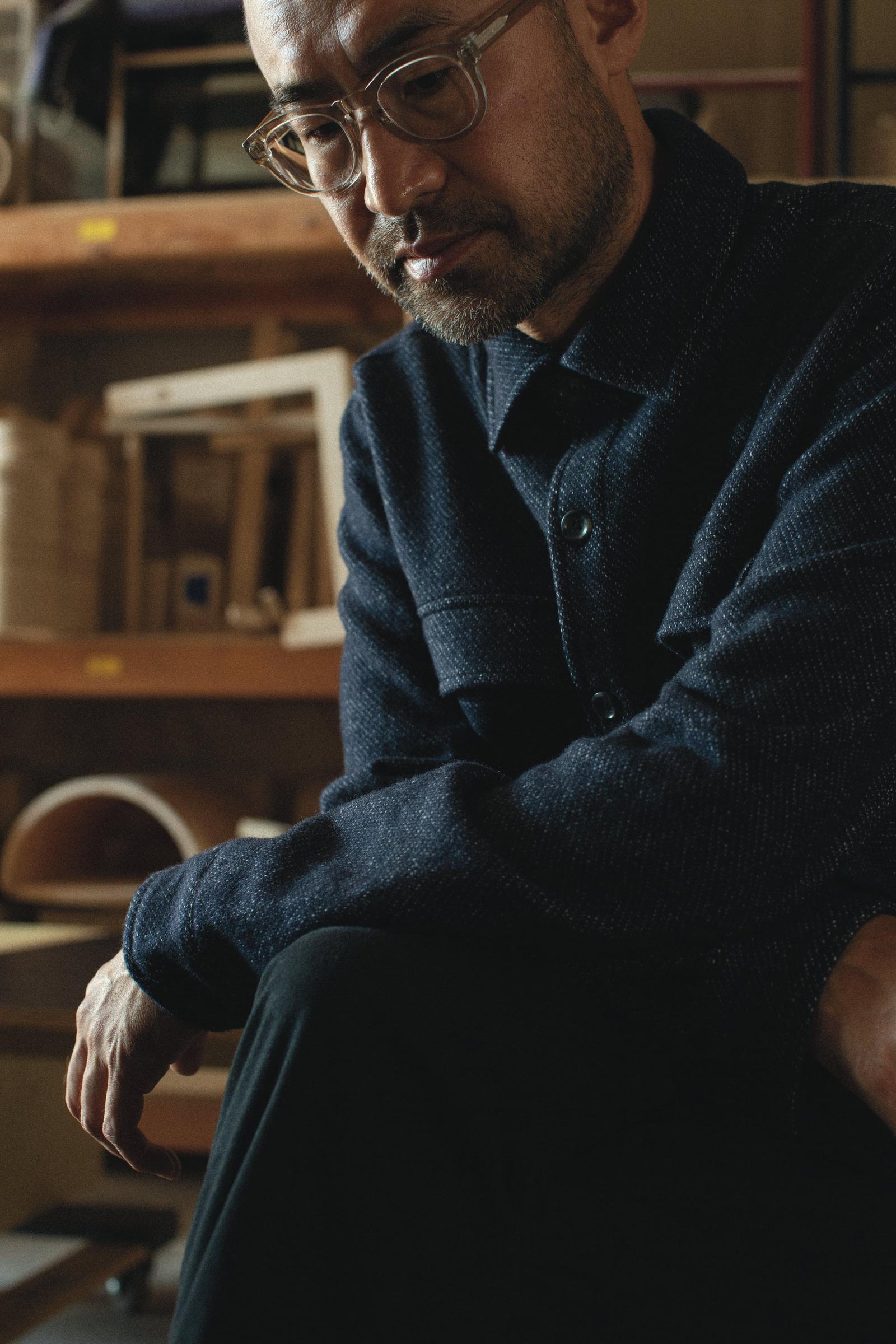 Does California influence your work?
Eames and Schindler used a lot of plywood. That's not the reason why I use plywood, but as a result I think it's more California. It's the plainest wood surface you can pick. In California, the colors are outside. I never lived on the east coast, but if you stay in a house, you want to add more color and texture. Here, you don't have to add that. I can use simple plywood and not add to the element.
What are you exploring next?
I've been working on metal pieces, which you can make look lighter because it's a stronger material. You don't have to have a lot of bracing. A square can just be the legs, there's no crossbar. When I make plywood pieces, it's Baltic birch plywood, which is much heavier than other domestic plywood. It has 13 layers.
I kind of want to stay away from cylinders now, too. People associate me with round elements. I still enjoy doing it, but I'm trying to move away from it.
I've also been reading something related to tea rooms. It's not that I'm going to make one, but just the concept of minimalist buildings. They're very small, two people can barely fit, and you create your own universe with adding and removing intentional design elements. Sen no Rikyu is a wabi-sabi guy who used available materials: the walls were made of mud but the framing was bamboo. Instead of framing the window, he would just punch it out and expose the bamboo structure underneath—taking something out of it can maybe create a bigger universe. If you can edit a better world, I appreciate it. It's all about balance.