California Creatives: The Transformers—Brilliantly Personal Activist and Actress Kuoth Wiel
This season's California Creatives are the kind of bold, imaginary thinkers who have walked away from promising careers, forged ahead in the face of fear, or picked up the pieces of thwarted dreams to pivot toward an unknown path. For these architects, skincare stars, chefs, artists, and more, courage has been found in 180 degree turns and slight shifts in thinking. In this year of drastic change, each of our pioneering subjects offers an example of how to move forward, taking what we've learned from the past into a brighter, more authentic future.
At 22, Kuoth Wiel contains more histories than most people see in a lifetime. Born in Ethiopia to South Sudanese refugees, the statuesque model, actress, entrepreneur and activist has moved throughout the world to both evade and follow civil war. "My dad was an aid worker, so we rotated to wherever the conflict was," she explains on a call from her home in Los Angeles. Thoughtful, warm, well spoken, Wiel has become a beacon for the power of personal narrative. Since tapping into her own, she has used it to fuel a major motion film co-starring Reese Witherspoon, a booming modeling career, a foundation aimed at undoing the causes and casualties of war, and beauty brand that offers the women who use it a time-tested route to glowing complexions, and the women who help make it a path to self-sufficiency. Here, Wiel talks about the surprise of a Minnesota winter, the breadth of experience within the Black community, and the many surprising routes to global activism available at our fingertips.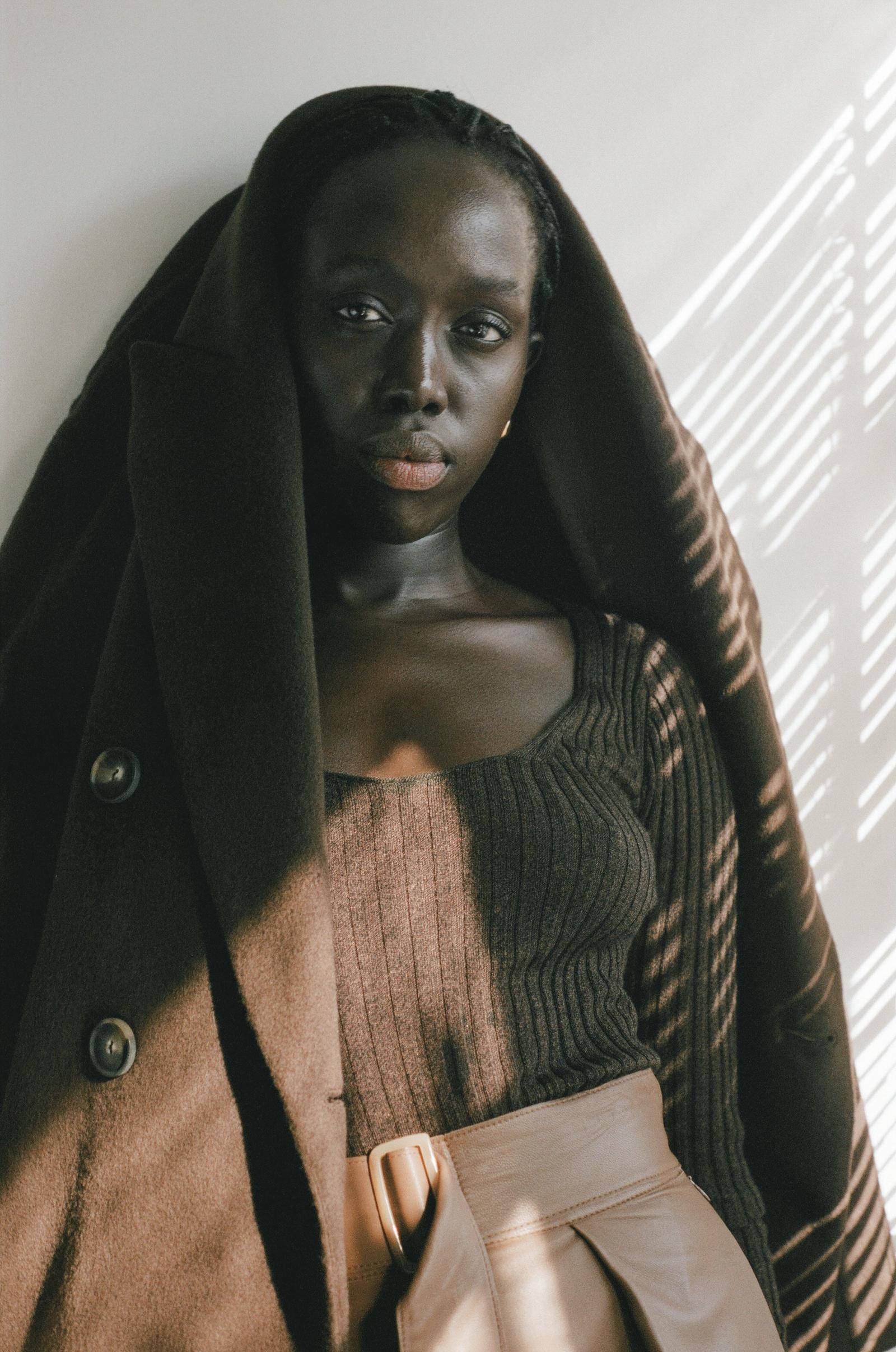 Where is home to you?
L.A. does feel like home, but wherever I go feels like home. [It's just about] finding a family in relationships, speaking my language so I never get detached from that, and cooking. There's a Little Ethiopia here. I really like Messob, Rahel, which is a vegan place, and Meals by Genet—they've been there for 20 something years. Those spices, I can't find anywhere else.
You moved to Minnesota from Ethiopia when you were 8 years old. What was it like making such a big move so young?
Oh my gosh! We were not anticipating being resettled to the US. It was a fish out of water adventure. Everything had changed. I spoke three other languages: Amharic, which is an Ethiopian language, Nuer, and a little bit of Arabic and English, but not enough to have a conversation. I could say "Hi" or "Bye."
Was Minnesota anything like you expected?
We arrived in June, so we thought [Minnesota had warm weather]. When you're going through the vetting process for resettlement, they take you through a cultural course that covers things like what appliances you will encounter, what you should be on the lookout for—they never said anything about [cold weather]. When our first winter came, my mom freaked out! I wore two jackets layered. [Laughs]. It was a lot at one time. The weather is beautiful in LA—that's one of the things I love about being here. [Laughs].
What was your experience of being a South Sudanese immigrant in Minnesota?
There were other Sudanese families, but we were all Africans. We weren't African American. We were all different. There are identity issues [for black people in the United States], just the whole homogenous view of what people are expecting of you. For example, we learned about slavery in school and everyone turned around to look at me. But I was just learning about it as they were! I had to eventually inherit the history of African Americans, too. When I went to college, I was blown over by the limited access to education. I met [African Americans] who were first-generation college students. I thought, "You've been here for 400 years and I only just arrived—how are we in the same position?"
You started taking acting classes while you were in college—is that something you knew you wanted to do?
I was always an artistic person, but I don't think I envisioned myself being an actress. There weren't any role models to look to. Even within the acting classes I took in school, I was the only black person. It wasn't until I took a class in Native American art [that I began to consider the possibility]. The transition [of exploring new] genres, it really woke me up in terms of having a power to portray certain narratives that could make an impact.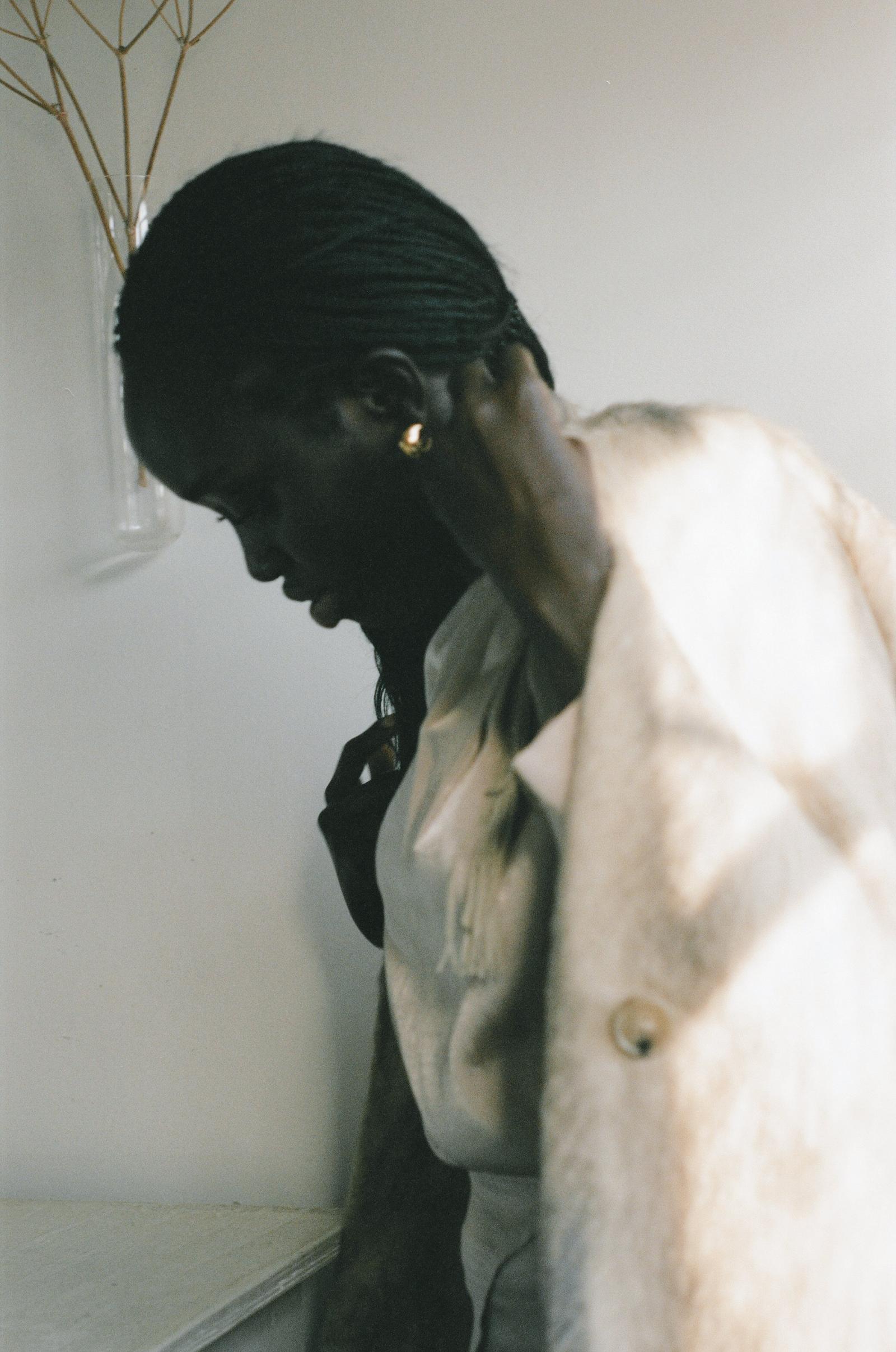 Speaking of which, your first movie, The Good Lie is about Sudanese refugees who relocate to Kansas—a story that mirrors parts of your own personal history.
For me growing up, I didn't really dive into the questions of why we were in a war zone. A lot of trauma was manifested in comedy. We would just laugh. My parents didn't want to retraumatize us. It wasn't something we talked about. [For the film] I interviewed my mother and other South Sudanese women. To have that perspective made me understand my own story. That was my introduction.
That must have been so powerful. As a culture, we talk a lot about why representation matters in terms of understanding yourself as a hero, or seeing the equal value in one another, but we don't really talk about how much stories help us understand and work through our own experiences.
Yes, obviously representation matters because not seeing something can limit your thinking. But we're now starting to [deal] with the issue of our perspectives. We're not a monolith, there are so many different narratives. I'm just happy that we're accepting the change. When I first moved to L.A., I was frustrated by lack of opportunity. There weren't that many roles available for black women. At an audition, I would see all of the black women I idolized on TV and think, "Wow, everyone is auditioning for this role. There must not be that many opportunities or narratives being told."
You're also bringing awareness to the narrative of East African women through your foundation, NyaEden. What is your goal for this foundation?
The word "Nya" in my language means girl. "Eden" is a beautiful place. My cousin and I created it about 5 years ago because we wanted to help communities become self-sufficient with the power that we have. There are huge bureaucratic systems for this, like the UN, but what can we do with our own power? We've been destabilized by war. How do you bring peace and conflict resolution, education, so a community can sustain itself? That's the goal.
How does that happen?
We decided to [start] by going to Gambela to the refugee camp, women's prison, and a girls' school to ask the community, "What can we do for you here?" The most inspiring thing we saw was that education is a huge topic and issue there. The oldest student in class was 38 years old. She told us, "I'm here because I want the younger students to know that you can go to school at any point in your life." Education is something we would like to address in the future. Child marriage is something we would like to address. As well as reproductive health education and conversations around menstruation.
What are the best ways to contribute?
Awareness is the most effective way to help. Learning about what's going on in that part of the world.
Janubi, your skincare line, also works to help African communities establish self-sufficiency.
I started it about three years ago. It was hard to find skincare that was just clean, organic and with ingredients that I know will also benefit the producer we are sourcing from. A lot of cooperatives that [the beauty industry sources] from are not African owned. I care about self-sufficiency [and sustainability]. Addressing how we only have 20% of forest left. I wanted to use the traditional [ingredients and rituals] our grandmothers used. Shea butter is a powerful source for beauty and food—during the war, a lot of women would use shea butter for nutrition. It's a survival mechanism for those women. Entrepreneurship is one of the best paths to freedom. Janubi comes from an Arabic word, which is what they call people from South Sudan. [Our icon,] the hibiscus flower, is the national flower of Ethiopia. It encompasses who I am. How can I use my story to empower other women as well?