Aesther Ekme is Defining a Future for Timeless Beauty
Stephane Park's cult collected bags have been at the forefront of a shift toward minimalism. Worn by art directors, architects, and artists, her discerning shapes are the anti-bag-of-the-moment. Instead, each sculptural handbag, tote, and wristlet in her line is rendered in supple leather with no visible hardware and a barely-perceptible logo (three quietly embossed dots). After a career of making flashing "it" accessories for some of fashion's buzziest brands, Park launched Aesther Ekme in 2016 with a vision of creating pieces that look at home on their wearer season after season, decade after decade, no matter where they're worn in the world. Now, to mark her first collaboration with Vince, launching today, the Brazilian-born, Copenhagen and Paris-based designer called from her glass-walled studio in Denmark, to dissect how her international education has defined a future of timelessness beauty.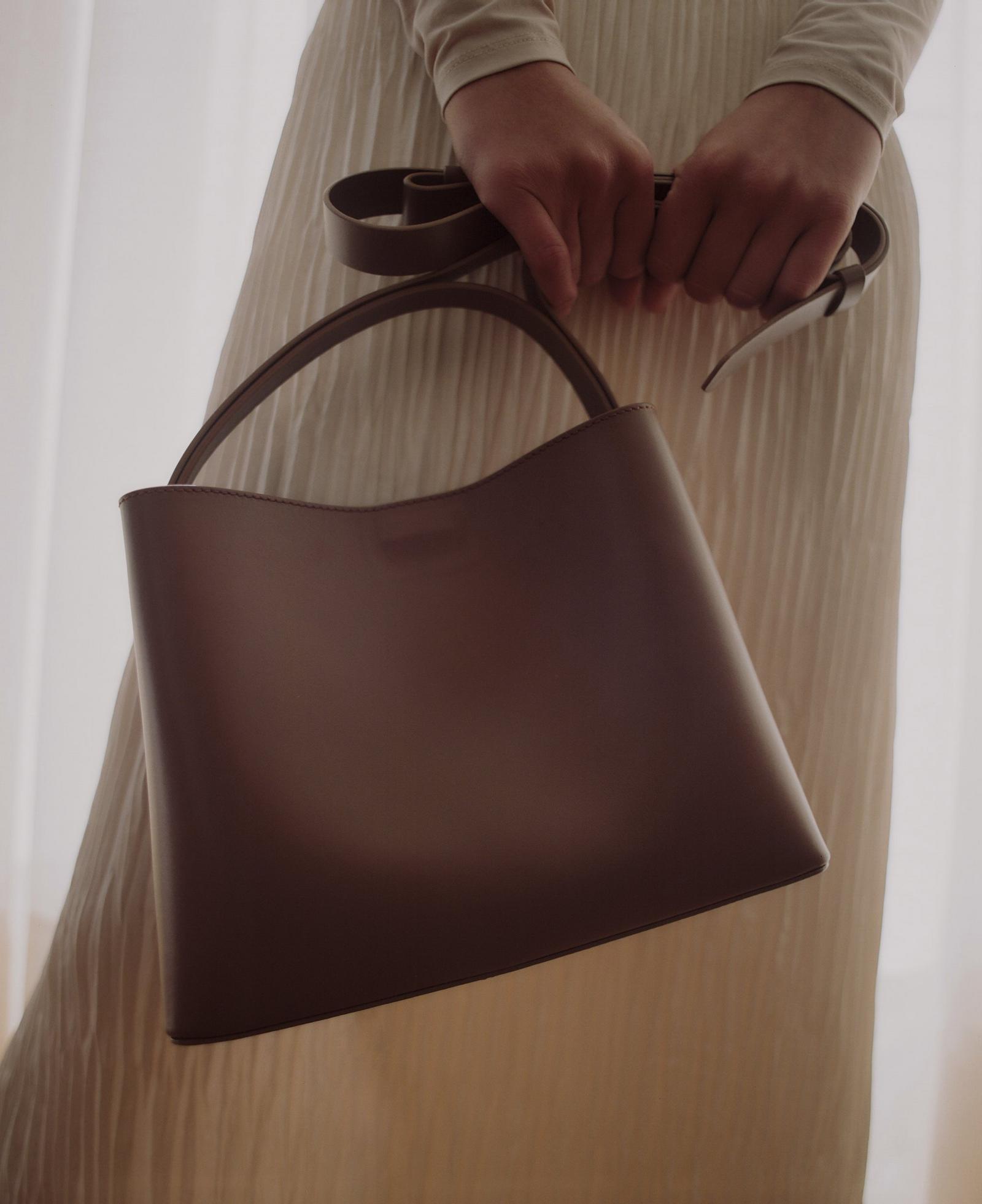 Where did the name Aesther Ekme come from?
Ekme means "bag" in Crimean Tatar, and Aesther comes from the word "aesthetics," but also sounds like Esther, the Biblical name. [In a way it means] "classic bags." It starts from a classic shape. At the time when I started the line, I wanted to take classic shapes and strip off all of the unnecessary details to get to a more purified, sculptural shape.
Tell us about your design ethos.
When I started, I had [been working on hardware for bags for a designer in New York]. That's what the industry was doing in general: making hardware the "it" element of the bags. I was inspired to do the opposite. Looking at all these bags with statement hardware, it was almost branding the woman. You see the bag first and then the woman. I thought it would be interesting to design a bag that would be an accessory and not speak in front of a woman if that makes sense.
The bag shapes look perfectly simple, but design so pared back requires incredibly complicated techniques. How do you approach refining your silhouettes?
So when I do shapes, patterns, proportions and volume studies, it's all about how it fits on your body. My education was in women's wear. I do fittings of my bags on different people: how it sits under the arm, how it sits on your hip, how easy it is for you to open and close, is it uncomfortable to have a base that large when it falls where it does. The Demi Lune came from following the curve of the under arm. It wasn't meant to be a very strong shape, because when you wear it, it almost disappears under your arm.
You try a million different mockups until you get it right. We really take time on the process. I don't have a huge line. I don't have that many collections. You just have to get a bit obsessed in the process. When you know it's right, you know it's right.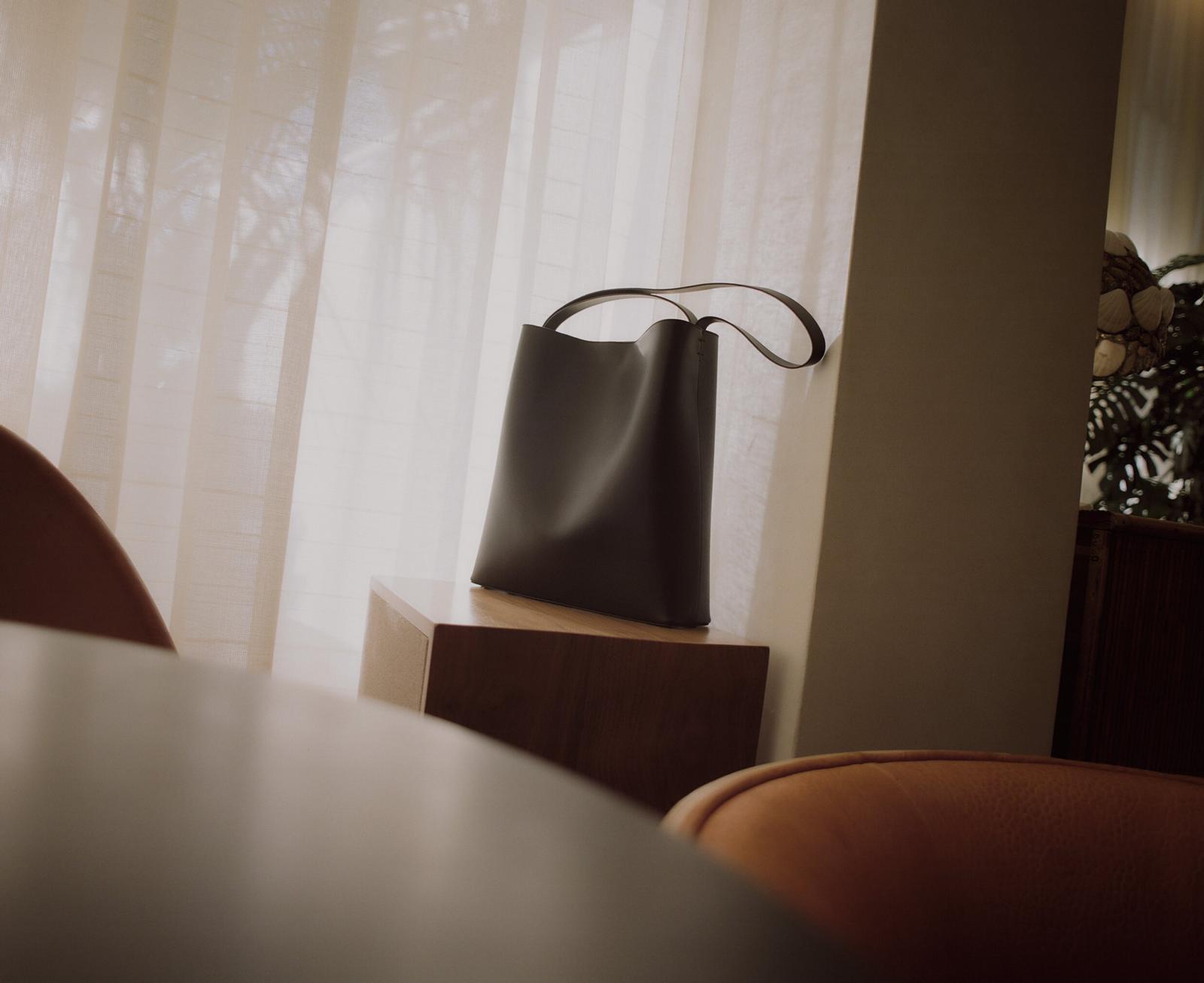 When you were approaching the Vince collaboration, what did you have in mind?
When I thought about the specific colorway I chose, it was to compliment a timelessness. That's why we chose this cognac tone, [that works for] summer and winter and goes with every outfit.
How do you personally like to dress?
My personal style is about being able to travel between seasons. I go between Brazil and Copenhagen which are on opposite seasons year-round and I go to Paris, which is also a different temperature. When I'm dressing myself, I surround myself with things I can travel with in whatever city and whatever place.
My trick is outerwear. I invest everything in outerwear, high quality knitwear and loads of boots. Whatever I wear underneath is quite uniform: jeans, t-shirts. For me it's about fit and comfort. Some people say Brazilian people are very body conscious and I'm not like that, but in another sense I am, in terms of how I choose a fit for jeans and t-shirts. It's very particular. It's the same with the bags. It has to fit the body. It has to feel comfortable. It's meant to be worn and not just held. There's a lot of body consciousness in how I dress. I think that's a Brazilian thing in a twisted way.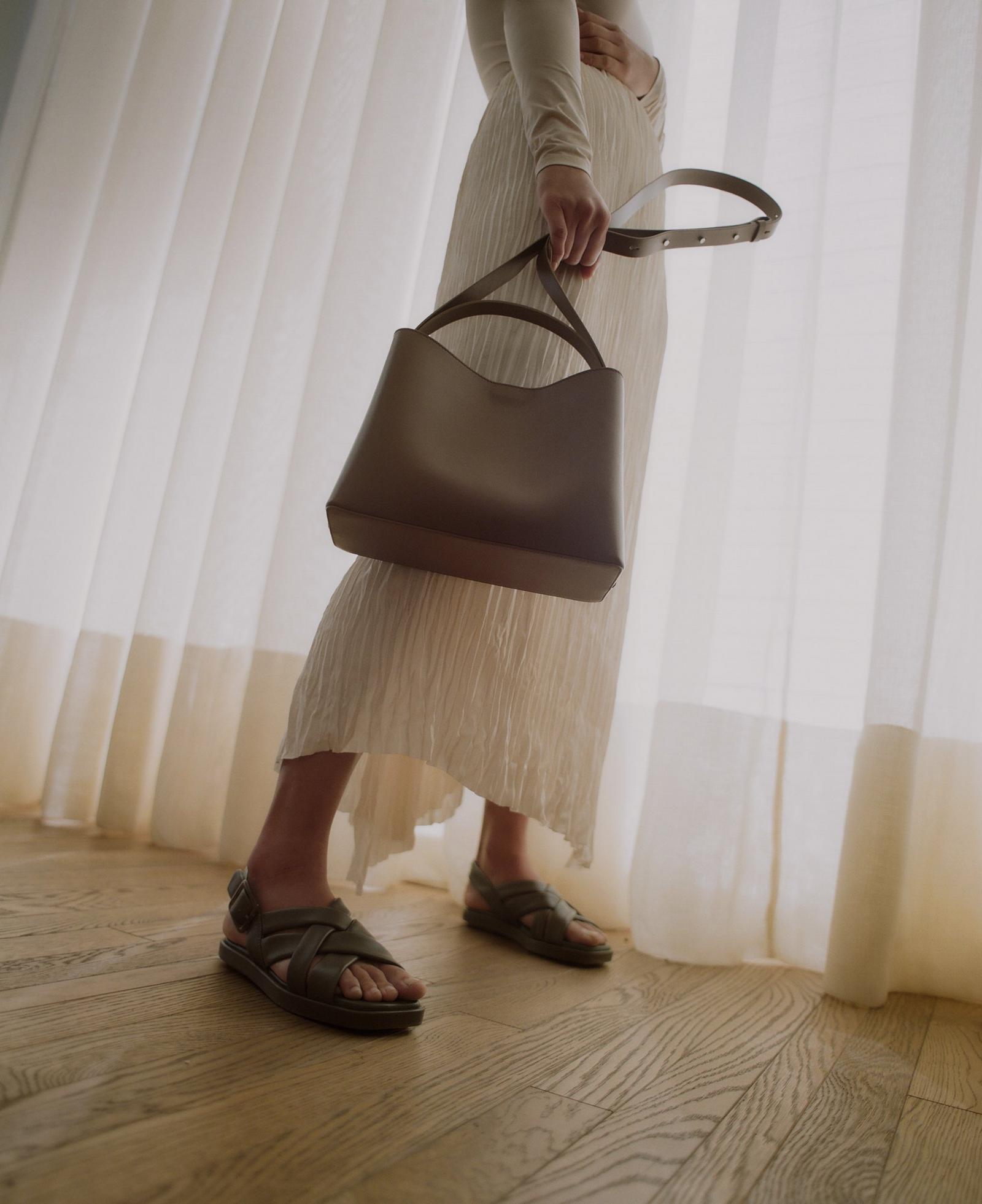 Do we see Brazil in your bags?
I don't really make my mood boards with Danish design or Brazilian architecture. It just kind of gets into your system. In São Paulo, I'm surrounded by Brutalist architecture. It's basically all concrete. This rawness [is in my approach] to design. It's just the shape, there's nothing else to hide [it], there's no embellishment. I don't even want to put that many stitches on my bags, it disturbs the line. That's what I think when I think about concrete.
What about Denmark, where you live and work? How does that influence your aesthetic?
And when you're in Scandinavia, you're just surrounded by design as lifestyle. I think that has made my design a little refined. I come with this raw energy in terms of standing, hammering, cutting—it's not a delicate process. Looking at the final touches and finishing the process has a delicate touch—I think this is where the Scandinavian part comes from. All the corners are rounded. Everything is harmonious. Nothing is too sharp or sharply edged. It's in a way subtle, subdued, mellow. The design ends up having both sides of me, this rawness to the approach of the design but also the polished curve finishing touches.
What about Korea, where your parents are from, and France, where you have an office
I think that the Korean side of me comes more from the way I work instead of the aesthetics. The Korean is what makes me a perfectionist and gives me discipline and makes me resilient and more stubborn, also with this thing about going anti the current and not wanting to compromise—this side of me is more Korean.
Since I opened my office in Paris three years ago, I've been a little more daring in my shapes. That's when [I designed] the Lune shapes. I don't know if it's because I was looking at Parisian and French design in that sense, but I was looking at that environment that was very "go all in." Paris really inspires you to own the aesthetic within you. What I'm good at is actually sculptural. In the beginning I was thinking that I just wanted something timeless and functional, now, later on, the brainy party of me is actually in my hands—that's where the passion comes from: the hands.